Book: Skype for Business Unleashed
There is a new Skype for Business book on the market!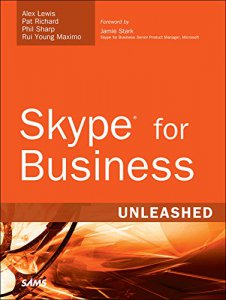 I know all the main authors of this book personally and they are all absolute experts in the Skype for Business ecosystem – so I have no hesitation in recommending it to you. I also know many of the contributing authors who have contributed chapters and information, so I know that this book is going to become the new "goto guide" for Skype for Business.
I contributed towards Chapter 21 – Developing Skype for Business Solutions so I'm happy to be able to say that this book contains a good amount of information on the different Skype for Business development technologies available today.
How to Buy
If you're based in the US, that's easy. The book is in major bookstalls, and also on Amazon.com
If you're in the UK or elsewhere, it might be harder depending on when you read this. Currently the UK store is showing as out of stock, but I encourage you to pre-order it anyway as that will increase the likelihood of it being shipped over here. (I'm not on royalties, I just think it's really good!). Or, you can buy it for Kindle today.
Ignite 2016 Book Signing
Seeing as a number of the authors and contributing authors were around at Ignite we planned a book-signing session which was a great success. Congratulations to the winners of the signed copies we gave away that day. Here are some photos of that event.
From left to right: Ståle Hansen (MVP), Phil Sharp, Pat Richard (MVP), Rui Maximo, Me
And this is Ståle and I doing some signing!
You should absolutely also check out the other authors and contributing authors as well – these guys are the final word in Skype for Business!
Alex Lewis
Pat Richard
Phil Sharp
Rui Maximo Young
Adam Berns
Adam Jacobs
Iain Smith
Ken Lasko
John Cook
Ståle Hansen
Tom Arbuthnot
Fabian Kunz
Shawn Harry
Finally, here's a great photo of Gurdeep Pall (Corporate Vice President for Skype) with a copy of the book. 🙂
@nomorephones @patrichard Thanks all! Will be my prized possession. @SkypeBusiness forever pic.twitter.com/MiaRN2fbYB

— Gurdeep Pall (@GurdeepSkype) October 4, 2016