In-line message translation coming to Microsoft Teams estimated July 2018!
I like to keep a keen eye on the Office 365 Roadmap for what's coming soon. A new item has just been added:
Microsoft Teams –  in-line message translation
In-line message translation will ensure that every worker in the team has a voice and facilitate global collaboration. With a simple click, people who speak different languages can fluidly communicate with one another by translating posts in channels and chat.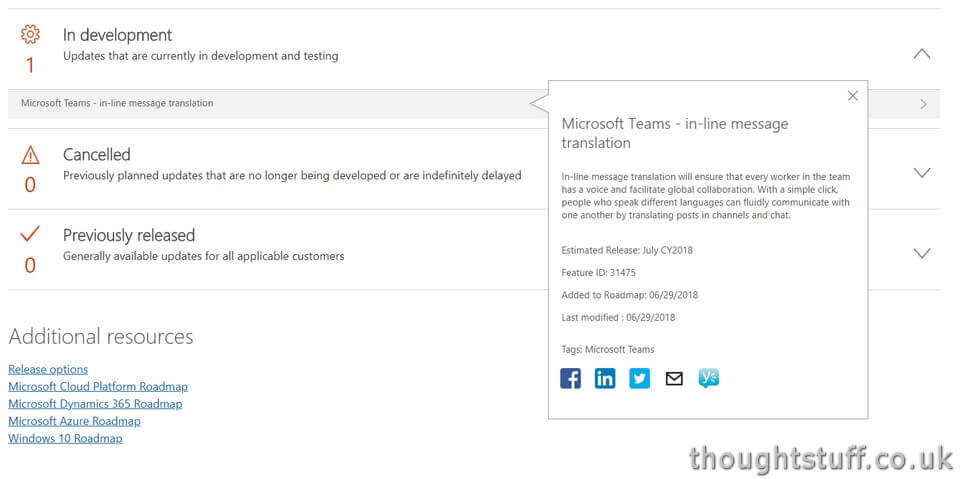 This capability was announced at Build 2018 alongside other features such as Cloud recording, Background blur, Proximity detection and Cortana voice interactions. We've seen a few of these features appear already, but this is the first time we've seen any concrete movement to make in-line message translation a reality.
The feature is showing as In development so it's not ready to start rolling out to tenants just yet. However, the estimated release date on this roadmap item is July CY2018. Given that it's been added on the last working day of June, I would say that's probably a fairly accurate estimation and we can expect to see this feature sometime in the next 4 weeks!
In the meantime, you can see a demo of some of the more exciting Modern Workplace features coming to Teams, as announced in Build 2018:
It's exciting to see things that just 40 years ago were considered firmly science fiction, now available to everyone, for free and in real-time. I can't resist including this clip from The Hitchhiker's Guide To The Galaxy, where real-time language was used to illustrate sometime so impossibly complicated and futuristic that it could only be done by putting a fish in your ear:
This is another example of Microsoft delivering Intelligent Communications through Microsoft Teams. I've been saying it for a while (listen to my weekly update this week for a recap!) but Artifical Intelligence is changing everything about how we work and interact. This is just the latest example of that. It's exciting to see Microsoft leading the field in not just talking about AI but actually shipping features that use AI to change how we work. I can't wait for this feature to arrive in my tenant!
Written by Tom Morgan

Tom is a Microsoft Teams Platform developer and Microsoft MVP who has been blogging for over a decade. Find out more.
---