LinkedIn data coming to Microsoft Apps – here's what to expect
It's rolling out now! Soon, you'll be able to see information from LinkedIn within Microsoft applications, bringing additional context and insights about the people you're working with. Here's what we know today:
Status: rolling out
The specific work item in the Office 365 roadmap for this states that the feature is in the process of rolling out. That means that it isn't available to everyone yet, but over time, should show up for more and more people.  However,  if you have a US government tenant, or have your Exchange Online mailboxes hosted in Australia, Canada, China, France, Germany, India, South Korea, United Kingdom, Japan, or South Africa then it won't be available initially.
When it arrives, it'll be enabled by default. (see below if you'd like to turn it off)
You'll know when it arrives, because in the Azure Active Directory admin centre, under "User Settings", you'll see a new 'LinkedIn Connections' section: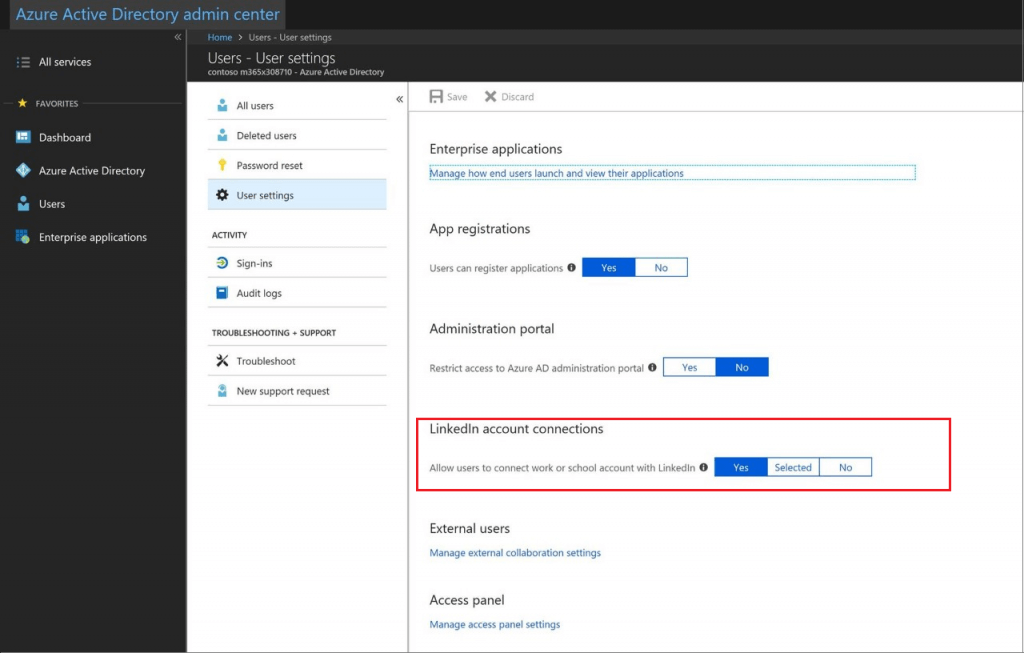 This is your tenant-wide "kill switch" to turn the feature on or off. You can also choose 'Selected' to enable it for a group of users.
You can use this link to jump to that section in your own tenant: https://aad.portal.azure.com/#blade/Microsoft_AAD_IAM/UserManagementMenuBlade/UserSettings
How to use
Once it's enabled, whenever you hover over a person's name or photo to show their profile card, you'll see a LinkedIn button. Click that to step through the authentication process with LinkedIn to enable Office365 to view your LinkedIn data. Data from Office365 which is shared with LinkedIn includes: profile, interests, subscription, and connections.
Be aware though, this is a 2-way street! Users are also prompted to share their Office365 data with LinkedIn, including: profile, calendar, interests, subscriptions, and contacts. This may be a concern for IT Admins worried about the leakage of data out into the LinkedIn ecosystem. According to this LinkedIn help page, "The Microsoft data you share is used to customize the LinkedIn experience. For example, LinkedIn may suggest that you connect to some of your Microsoft contacts."
Once enabled, every time you hover over someone, you'll see any additional content from LinkedIn: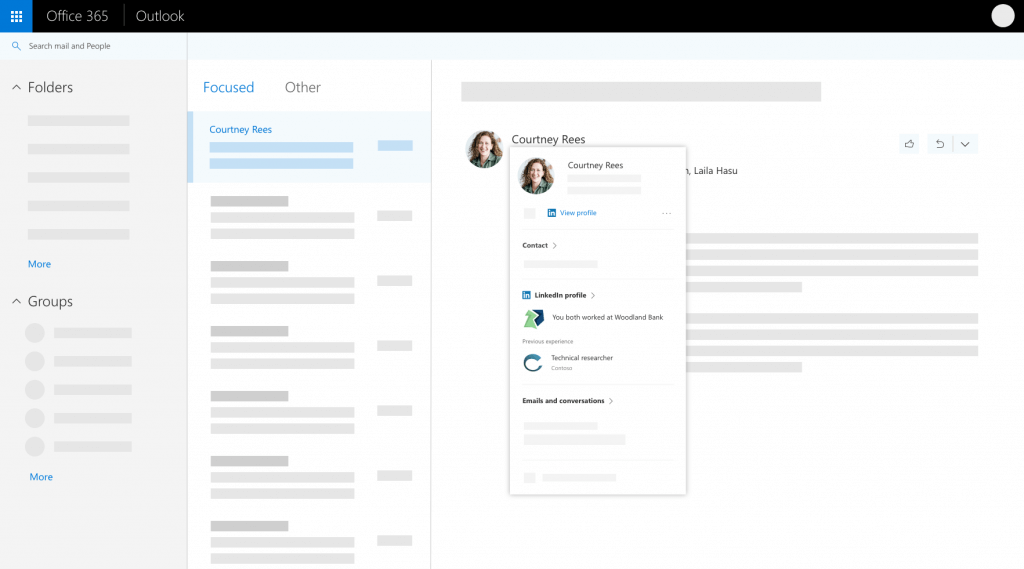 Need more details?
There's a set of Frequently Asked Questions on the user experience, including usage, connecting, and disconnecting your account.
There's also a guide for administrators on managing LinkedIn connections in your tenant.
Written by Tom Morgan

Tom is a Microsoft Teams Platform developer and Microsoft MVP who has been blogging for over a decade. Find out more.
---