Walkthrough: Creating a UCMA Application & Application Endpoint
If you're creating UCMA Applications, you'll need to create both applications and application endpoints.
I'm going to assume that you already have a configured UCMA application server, and that you (or someone) has created an Application Pool.
Step 1 – Find the Pool
When you create an application, you need to tell Lync which application pool you want to run it on. If you don't know which application pool to use, you can use the following PowerShell command from the Lync Server Management Shell:
Just running that without any other parameters will give you a list of pools. You need to make a note of the Fully Qualified Domain Name (PoolFqdn) at the bottom of the readout: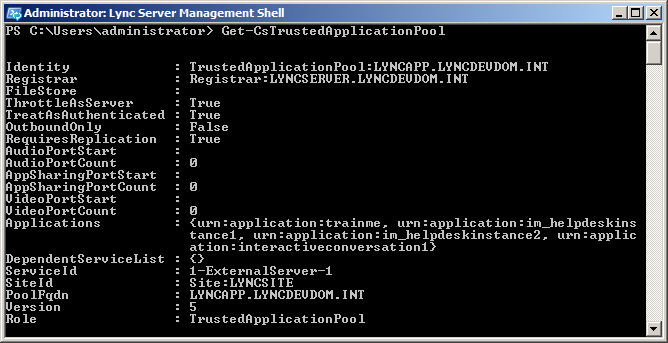 The Lync Server Management Shell is a PowerShell instance with all the Lync-specific modules loaded. If you don't already have a shortcut for it on your desktop, you can make one (you'll need it) by finding it on your application server via Start > Microsoft Lync Server > Lync Server Management Shell. The icon is the same as the PowerShell icon.
Step 2- Create the Application
To actually create the application, use the New-CsTrustedApplication command. There are quite a few optional parameters you can pass, but if you're unsure just issue the command and PowerShell will prompt you for the required parameters. These are the ApplicationID, a unique key used to identify your application, the port through which the application will be accessed, and the Fully Qualified Domain Name (FQDN).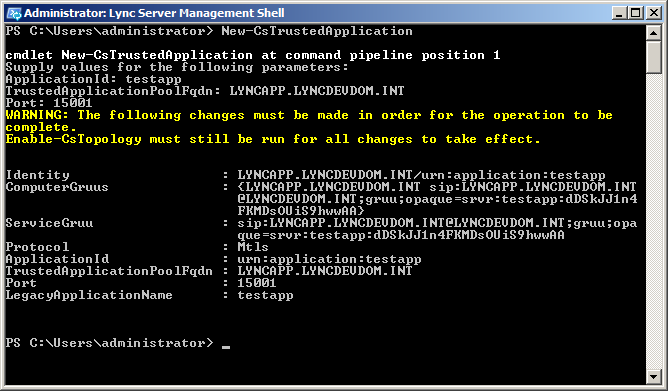 You'll get a warning in yellow about needing to run Enable-CsTopology, so go ahead and run this now.
Make sure you open up the port you specify for this application, otherwise your application will fail with cryptic errors and you won't know why!
Step 3 – Create Application Endpoint(s)
The endpoints are the actual SIP addresses by which users will interact with your application. You can have more than one, but you need to have at least one for your application to be useful. To create the endpoints you need to know the PoolFqdn and the ApplicationID of the application you just created.
If you just issue the New-CsTrustedApplicationEndpoint command you will only get prompted for the required parameters. The SIP Address and Display Name aren't required parameters and you won't get a chance to put them in (Lync will create a random string sip address for you!). Being able to choose the SIP address of the endpoint is pretty important, as is the display name, so let's pass them as optional parameters when we call New-CsTrustedApplicationEndpoint:
You can test that everything has been added correctly, or just review your applications and endpoints, using the Get-CSTrustedApplication and Get-CSTrustedApplicationEndpoint commands.
Written by Tom Morgan

Tom is a Microsoft Teams Platform developer and Microsoft MVP who has been blogging for over a decade. Find out more.
---