TFS Project Rename is coming!
The Background
Ahhh, TFS. Some of the most advanced ALM and source control features on the market. Innovations that truly make a difference in developer's lives. And then… Project Rename.
If you haven't hit this yet, you're lucky, and you don't change your mind enough. Renaming project names in TFS is curiously absent, and has been for a while. For all sorts of reasons (product name changes, team merges, changes of mind) it's desirable to be able to change project names.
And yet, it's not something you can do in TFS. The team have been pretty clear about it – it's a hard problem to solve. I don't know why, I'm not privy to how TFS is designed. But the frustrating thing for us is that it doesn't feel like it should be a hard problem to solve.
It's a popular request on User Voice:

At the moment the only way around it is to attempt an export and import using the TFS Integration Platform.
It's such a contentious issue that it's even been the source of an April Fool's Joke!
The News
TFS Project Rename is coming! Brian Harry recently mentioned that he'd sat in on a design session at Microsoft for implementing this feature. The news is hidden in the comments section of a blog post around the latest (sprint 59) deployment: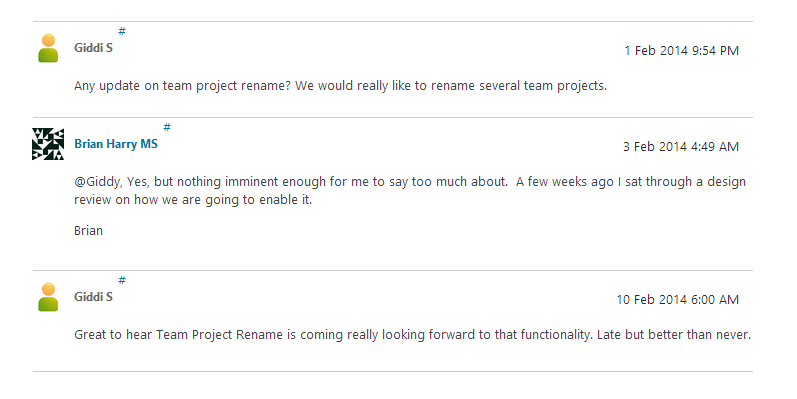 (Brian Harry is a Microsoft Technical Fellow working as the Product Unit Manager for Team Foundation Server.)
Obviously, that means that the feature is still some way out, but given the high number of votes it's already received, coupled with the newer, faster cadence that Microsoft are now delivering at – might it be too much for us to hope for it in vNext of TFS? Or even better – delivered to TFSOnline in one of the next sprint deployments?!