Skype for Business & Skype Federation Improvements Coming Soon
As part of the Office365 Summit series, we're finding out lots of really useful information about the upcoming Skype for Business release, the replacement to Microsoft Lync.
Courtesy of a webinar on Lync/Skype Federation, we now know a lot more about the improvements being made in Skype for Business around federation with Skype.
Obviously, Skype/Skype for Business federation already exists, but it's limited. Coming in the next release, we can expect:
All Skype users can add Skype for Business contacts (you don't have to be signed in using a Microsoft account, Skype IDs also supported)
Skype for Business users can search for and add any Skype user

Can search by name, name + location, email, phone, Skype ID
Because the Skype address book search graph is hosted in Azure, to use this functionality user must be homed on Skype for Business FE and there must be at least one Skype for Business Edge deployed for connection to be made.

Video calling between Skype and Skype for Business users
Audio calls between Skype and Skype for Business will use the Silk codec by default. Video calls will use H.264. Calls will also use FEC for controlling errors over poor connections.
Skype Address Book searches will be throttled to 15 requests/second per domain. If you have a lot of users and this will cause problems, it's possible to negotiate a new limit with Microsoft and be white-listed.
New Skype Search Performance Counters
There will be new performance counters to allow you to monitor the rate of searches and identify any throttling that's happening:
Users will be able to:
Accept/Reject inbound audio/video calls
escalate audio to video
pause/resume video
In logs, you will see the following format for identifying Skype usernames: 
[email protected]
.
Coming Soon: client support for Skype Mobile devices, to enable them to use contact search, audio/video federation etc.
Not coming anytime soon is any conferencing functionality.
Why Silk?
Silk has multiple payload rates, meaning that it works better across different (and differing) network conditions. It's also less payload overall – even the best quality Silk payload is almost half that of G.722. In addition, it brings slightly better MOS quality over ideal conditions. When networks conditions deteriorate, that MOS score is considerably better compared to G.722.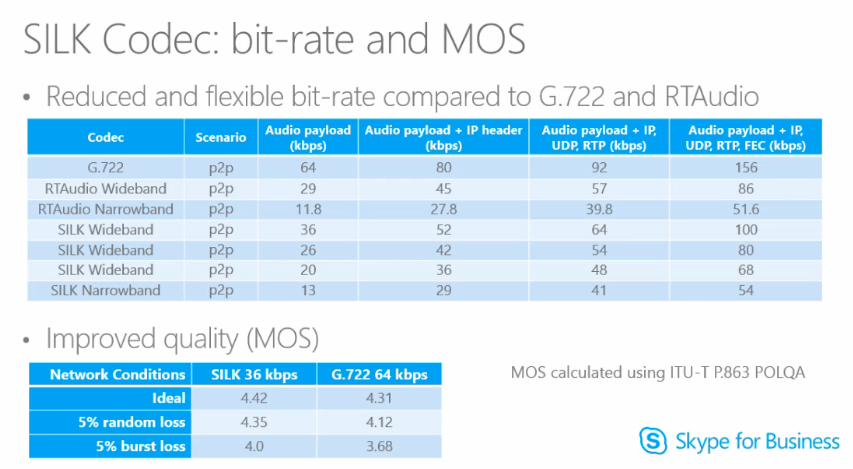 Improved Call Flow
In the current implementation of Skype/Skype for Business federation, both the signal path and the media path traversed the federation cloud. In the new release, the media path will be peer-to-peer. This is similar to how Skype for Business routes calls internally. More direct routing for media traffic should result in better quality. This change in flow is best shown with two slides presented during the webinar comparing versions 1 and 2 of the connectivity call flow: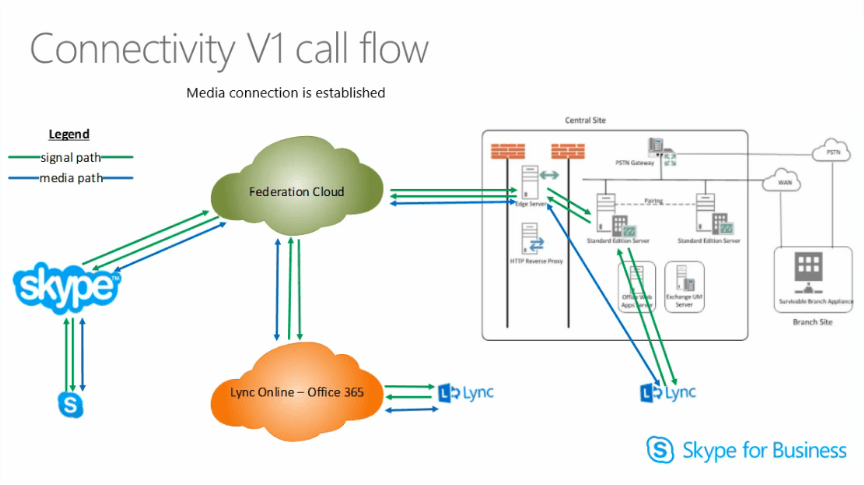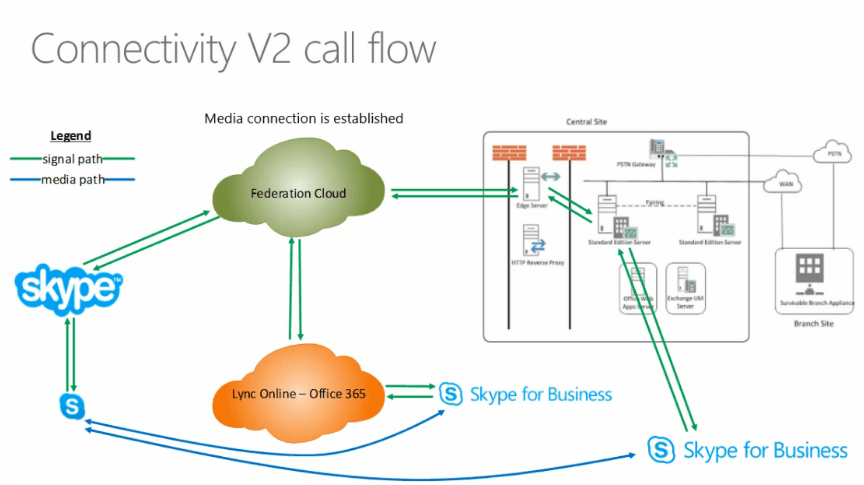 Client Support Matrix
This is the matrix of what's supported, by client: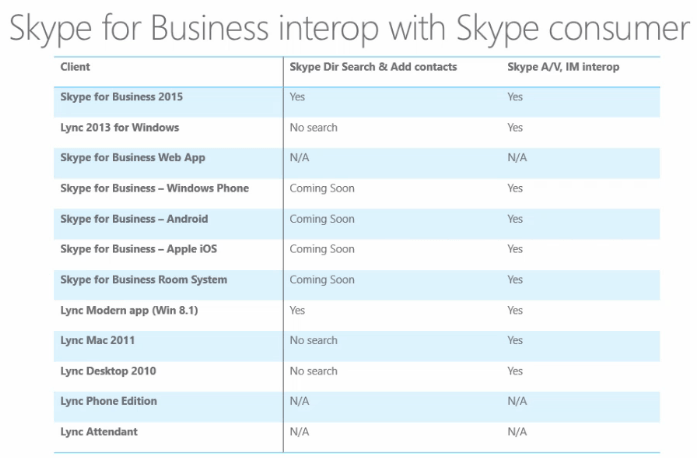 It's worth noting that if you already have Skype users in your contact list using the Lync 2013 client, you'll benefit from the new audio/video improvements. On the flip side however, no search coming anytime soon for Mac clients…
When is this coming?
The difference in functionality between version 1 and version 2 will be rolled out over time to clients. It's controlled via a "switch". On the back-end there isn't any new infrastructure, it's the existing cloud infrastructure being used in a smarter way – so clients will migrated over to version 2 over time.
Written by Tom Morgan

Tom is a Microsoft Teams Platform developer and Microsoft MVP who has been blogging for over a decade. Find out more.
---