Lync Development APIs: What's supported in Skype for Business?
One of the questions that's been coming up in discussions with Lync developers recently is whether or not the existing development technologies for Lync will continue to work with the upcoming Skype for Business release.
I'm happy to be able to tell you: YES – everything is still supported!
In this slide from an Office 365 Summit presentation which you can watch on Channel 9, at 5:53 in we have confirmation that Skype for Business will continue to support:
Unified Communications Managed API (UCMA)
Lync Server SDK
Lync Client Managed API (including UI Suppression)
Unified Communication Web API (UCWA)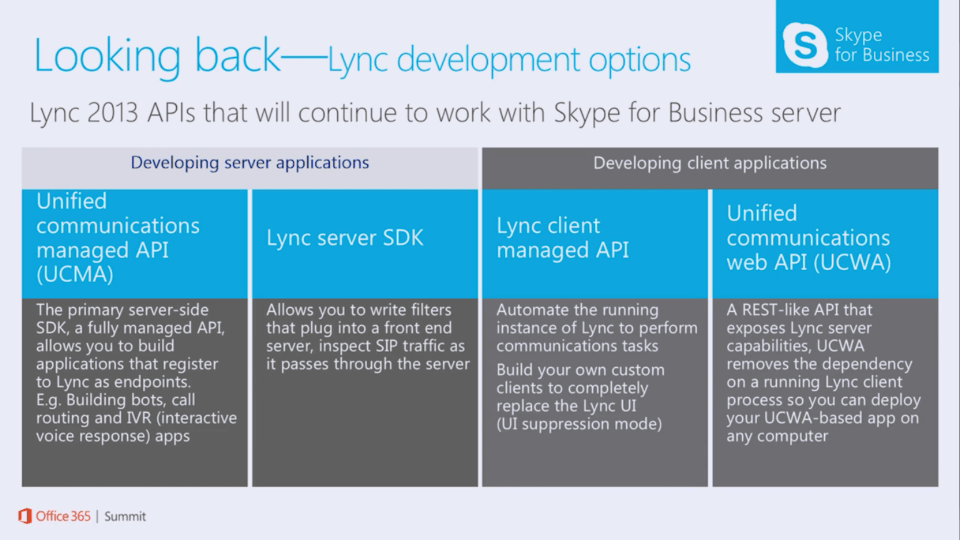 This means that there's no reason not to get started in Lync development today – because the things you learn today on Lync will work fine tomorrow on Skype for Business. And if you've already invested time and money in learning Lync development – these skills will continue to be valuable in Skype for Business.
Written by Tom Morgan

Tom is a Microsoft Teams Platform developer and Microsoft MVP who has been blogging for over a decade. Find out more.
---