Skype for Business – Supported SQL Versions, AlwaysOn, and HA Options
As part of the Office365 Summit series, we're finding out lots of really useful information about the upcoming Skype for Business release, the replacement to Microsoft Lync.
Courtesy of a webinar on SQL AlwaysOn, we now know more about how Skype for Business will work with SQL AlwaysOn.
AlwaysOn is just one of the supported HA technologies you can use, although it's worth noting that mirroring is now officially deprecated. Note that if you DO want to use AlwaysOn, you need SQL Enterprise edition:
The Support Matrix for the different HA approaches for Lync Server 2010, Lync Server 2013 and Skype for Business Server now looks like this:
Skype For Business Server supports the following AlwaysOn configurations:
SQL In-Place Upgrade Support is supported only for SKype for Business Server Pools: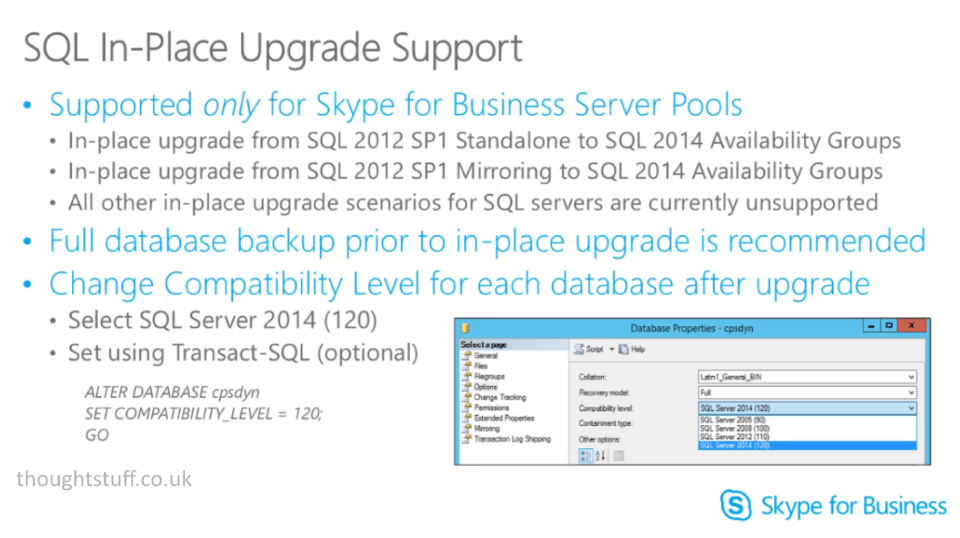 Using Windows Server Failover Clustering has the following requirements:
When creating your cluster, be sure to UNTICK the box to add all eligible storage. AlwaysOn doesn't utilize Shared Storage and apparently "you will get problems" if you don't do this:
The webinar is definatly worth listening to – the speaker goes into great detail about how to set up AlwaysOn, with screenshots at every stage. I'm going to have to re-watch it at least once: it's pretty confusing and there are many different steps. I'm not a SQL HA expert and I lot of this went over my head the first time around. However, the speaker gives explanations for everything, and also has loads of useful tips throughout.
Known Issues
One section that's definitely worth checking out is the Known Issues section.
Issue 1 – Clients go into resiliency mode after failing over Availability Group to secondary replica: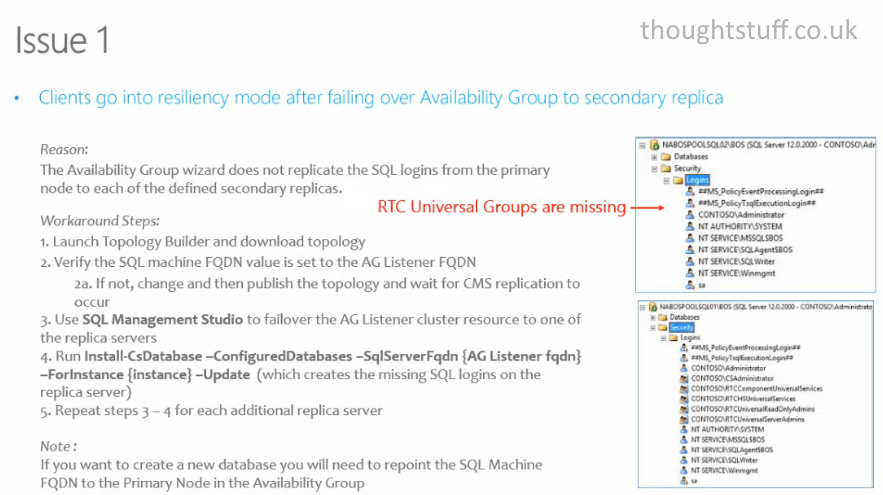 Issue 2 – Unable to move from SQL mirroring to AlwaysOn Availability Groups due to location of CMS database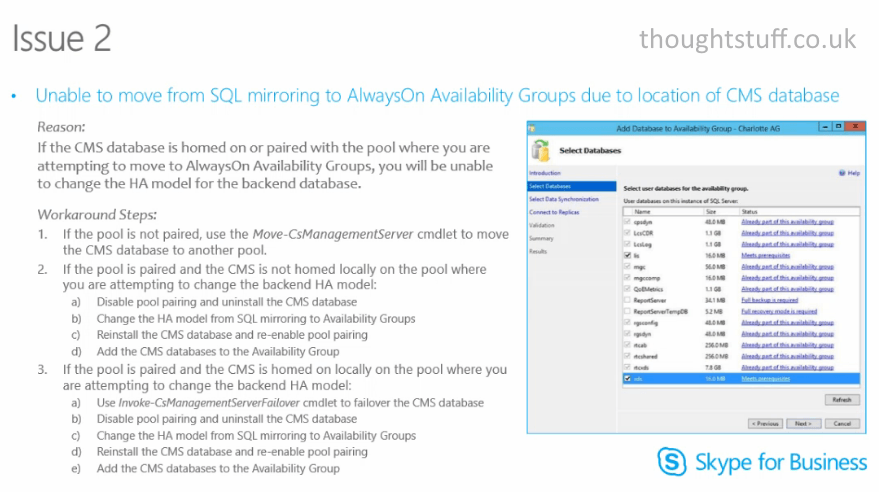 Issue 3 – Creating an Availability Group with only a single replica
Issue 4 – Unable to create AlwaysOn Availability Group Listener due to connection failure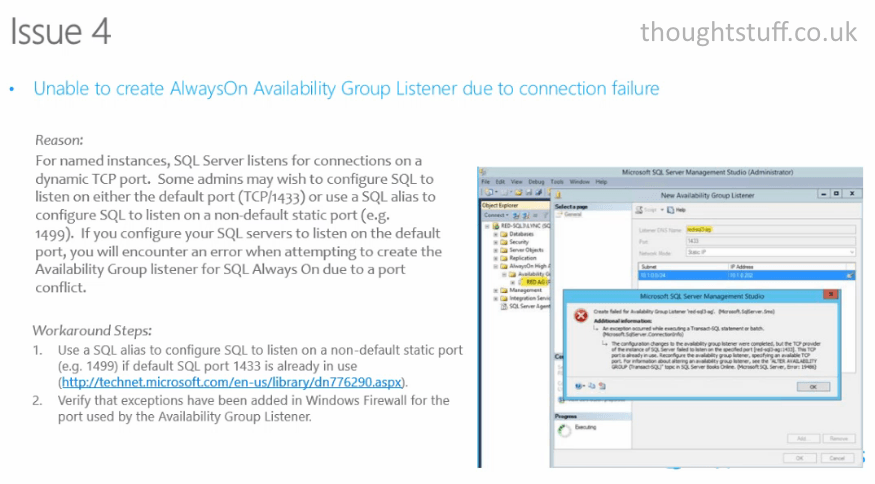 You can watch the webinar here: SQL AlwaysOn Deep Dive
Questions and Answers
This is the Questions and Answers feed from the webinar:
Question
SQL Clustering is a good solution for HA and not DR, If media [SAN]fails clustering fails, How SQL ON is porne to media failures
Moderator
SQL Always on for SfB only supported for SQL servers on same subnet. SfB DR requires 2nd SfB Pool with it's own SQL AO backend in a different geographic data center.
Question
Does SfB also Support a SQL 2008 Cluster or do we have to migrate to Sql Always On?
Moderator
Clustering will still be support. SQL 2008R2 is minimum supported for SfB.
Question
Can the Secondary Replica be present in a Different Datacenter (or Geographic region)
Moderator
All replicas in a SQL AlwaysOn Availability Group for a SfB pool must be connected to the same subnet.
Question
Have I understood correctly, SQL Always on is quite expensive solution from licensing point of view?
Moderator
AlwaysOn Availability Groups or AlwaysOn Failover Cluster Instance (more than 2 nodes) requires Enterprise Edition.
Question
Is it also possible to have only two nodes?
Moderator
Yes, this is supported
Question
Also if we think about licensing costs compared to Mirroring solution with backend database, it is more reasonable to have mirroring solution?
Moderator
You can continue to use mirroring in SfB (full supported), but just understand that it is a deprecated feature (per SQL team)
Question
Can SQL Always On also be used for SQL Server Reporting Services for monitoring reports?
Moderator
This will not be supported at RTM, but I do believe we plan to investigating supporting it at some time post-RTM.
Question
Sahil here: Is SQL-Always on can be used in clustered share volume using scale out file server to connect to media[disks]?
Moderator
This has not been tested, so as of now is not supported.
Question
Again sahil here: Sorry for many questions Do the database replicated to the secondary pool still via Lync backup service or may leverage always on option?
Moderator
Paired pool database replication for SfB pools still use Lync backup service.
Question
How does the AlwaysOn solution work with Windows Fabric in a Frontend pool in SfB?
Moderator
All FE will be connecting to their BE with their availability group provided by any of the SQL server in that group. so no issue in fabric with respect to fabric.
Question
did the feed die?
Moderator
please refresh IE
Question
Is there a process that will be documented to migrate the data from a Lync 2013 environment to the SFB AlwaysOn databases?
Moderator
Yes We will have documentation that will help you move from SQL Mirroring/no current solution to AlwaysOn.
Question
Sahil here: Does Lync supports async mirroring or synchronous mirroring if we require witness server for automatic failover. Does SQL_Always on uses witness server?
Moderator
We require synchronous writes to AO databases, and no, AlwaysOn does not leverage a Witness.
Question
What are some of the issues that were experienced with upgrading from SQL Mirroring to AlwaysOn SFB?
Moderator
Stay tuned – issues covered during latter portion of this webcast.
Question
Are always ON availability groups supported between different SQL versions (eg. 2012 and 2014).
Moderator
We will support adding backend databases of SfB pools to AO Availability Groups hosted on either SQL Server 2012 SP2 CU2 or SQL 2014.
Question
Always on leverages windows clustering. With even number of nodes, do you need a file witness ?
Moderator
Yes file witness required. Will be covered shortly.
Question
SO all Dbs are updated simultaneously?
Moderator
If you do a failover (automatic or manual), all databases are failed over together as a group to one of the replicas. Yes.
Question
Is the Primary in an AlwaysOn the only server than can "vote" in an even numbered FE Pool?
Moderator
I don't think it's the Primary, but rather the Active replica that owns write access to the databases.
Question
What is the recommendation regarding number of replicas? 1 primary + 2 replicas + 1 witness? or 1 replica +witness?
Moderator
We will support 1 active + 2 secondary replicas, but only one of the secondary replicas can be an automatic failover target.
Question
wouldn't 2 pools provide me with HA / DR of the SQL as well? if the pools were built to handle the full user load of my organization?
Moderator
Not really. In a failover state, you're only accessing data that has been sync'd over by the backup service. Pool pairing does not provide true SQL HA.
Question
from a SfB point of view what is THE benefit of having 2 replicas instead istead of having SQL always on configured with only 1 replica?
Moderator
Having one additional safe copy of the databases. Failover to the third SQL server (second replica) in the event of an outage of both of the other replicas would not be automatic, however.
Question
Can the Secondary Replica be present in a Different Datacenter (or Geographic region)
Moderator
No, this will not be supported at RTM
Question
Always On is supposed to be a feature that allows multiple subnets (for going across data centers). From a cost perspective, its cost prohibitive to have six SQL servers (with three of them useless in an empty pool just waiting for a failover) when three servers should be good enough. Is there a SfB limitation that is somehow put into place that doesn't allow for multiple subnets?
Moderator
We simply did not test this scenario.
Question
Enterprise edition? SMBs wont be able to budget that.
Moderator
If cost is concern, SfB customers can still leverage AlwaysOn FCI (two nodes) and mirroring using Standard Edition for SQL HA.
Question
The licensing cost for SQL Enterprise to use Always On will cost more than the licensing cost for a Lync Front-End. SQL Mirroring is more economical at this point. Can we please have a two-node Always On SQL offering based on SQL Std Edition?
Moderator
We do. It's called AlwaysOn Failover Clustering Instance (shared disk). You can have up to two nodes using SQL Standard Edition. This is one of the supported SQL HA solutions for SfB.
Question
does the support for collocation databases remain same with always on or does that change ?
Moderator
No change on collocation DBs
Question
i can download the previous sessions?
Moderator
Yes, if you go back to the original link in your calendar, or back to the main registration page, you should be able to see recordings of the previous sessions. https://infopedia.eventbuilder.com/index.asp?landingpageid=7p1c8p
Question
is collocation of DBs supported?
Moderator
There is no change in DB collocation compared to Lync 2013 roles.
Question
Will Lync still be aware of the placement of the databases like Mirroring? eg which is the active sql server?
Moderator
Depending on the configuration of the SQL store in the topology, we will only see what is defined as the SQL AlwaysOn FQDN.
Question
Sahil Here: lync backup service use RTCXDS database which creates its logs to reach 16GB limit after that database dies? What is the condition in SFB?
Moderator
The same 16GB limitation is applied to the RTCXDS transaction log whether you use SQL mirroring or AlwaysOn Availability Groups. This can be increased if needed using SQL Management Studio. We did take one fix in particular w/regards to the Backup Service. In the event that you get a pool ownership conflict on one or more objects, we will no longer flood the RTCXDS transaction log due to commit failures (no more rapid log file growth).
Question
So I/you charge my customers for three instances of SQL Server Enterprise to take full advantage of this and if the first two nodes fail, they don't get automatic failover? That's going to be a fun call when the day comes. 🙁
Moderator
That's a SQL limitation whenever synchronous commit is enabled.
Question
Can FSW be DFS based?
Moderator
I would not use DFS for FSW due to possible replication delays.
Question
Is 1+1+ SQL Express Witness supported?
Moderator
Yes… as long as they are all the same version of SQL, we will support using SQL Express as a Witness for a mirrored set. (You'll need to enable TCP connections, though.)
Question
Do you need to have the Availability Group Listener FQDN already configured in DNS prior to running the deployment?
Moderator
yes all the required DNS records should be inplace.
Question
How many SQL nodes are supported within a cluster?
Lynn Roe (Moderator)
3 Max replicas for AO AG's (due to synchronous commit)
Question
Too complicated to setup…… Lync is getting harder and harder… 😉
Moderator
SQL admin is your best friend! 🙂
Question
Can SQL Always On also be used to make SQL Server Reporting Services for monitoring reports highly available?
Moderator
SSRS databases will not be supported on AO Availability Groups at RTM.
Question
For AGs, do we have to worry about a separate load balancer or does SQL handle that?
Moderator
this is handled by SQL, no HLB required.
Question
can a single SQL AOAG host multiple pools' backend databases
Moderator
No, this is unsupported.
Written by Tom Morgan

Tom is a Microsoft Teams Platform developer and Microsoft MVP who has been blogging for over a decade. Find out more.
---