Office 365 Roadmap is now part of the Microsoft Roadmap, now has RSS!
For a while now, there has been an Office 365 roadmap, allowing us a view into which features are being developed, rolled out, and launched.
That has now become part of the Microsoft roadmap, meaning a new site and some new features. You can read the full announcement on Tech Community.
You can still use the new Microsoft Roadmap to see features specific to the application you're interested in though, which is great news: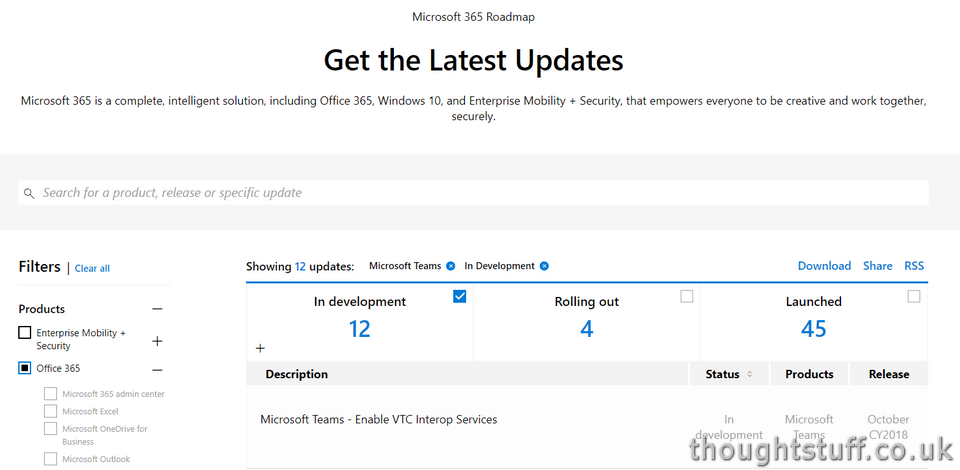 Your search terms also become part of the URL – so if you wanted to bookmark a search for just Microsoft Teams items In Development – you can!
There is also a RSS link, meaning you can subscribe to updates and be automatically notified when they happen! This is great progress, although it would be good if it was possible to have RSS links specific to a search, so you could create a number of links specific to products and statuses you particularly care about (for example, features In Development for Microsoft Teams).  However, there's technically nothing stopping you doing something like this yourself. I might look into producing a specific RSS feed for Teams if anyone is interested and no-one beats me to it.
There are some nice new touches as well, like being able to email a specific product item. And the 'Download to CSV' option is still there as well.
With this change, the Microsoft Roadmap has become a single holistic view of what's new and coming across the entire Microsoft 365 stack – including Office, Windows and the Enterprise Mobility & Security products. For admins trying to keep on top of all the latest changes, this must be a welcome change, and should be the place to go to find out what's planned for the future of Microsoft 365.
Written by Tom Morgan

Tom is a Microsoft Teams Platform developer and Microsoft MVP who has been blogging for over a decade. Find out more.
---