Microsoft announces voice capabilities for Microsoft Dynamics Customer Service (but it's not built on Teams)
At Microsoft Ignite 2020, Microsoft Dynamics Customer Service announced support for a voice channel option to complement their other channels available via Omnichannel, such as WebChat and major social media channels. This means that potentially all types of inbound/outbound enquiries can be handled by a single platform, with the integration benefits that come with it. The integration is set to roll out in the first half of 2021.
For a long time now, we've been looking at Microsoft Dynamics and Microsoft Teams, and thinking that some sort of integration would make sense. Knowing who is calling, for instance, or having instant access to interaction history. Both these products are Microsoft-owned and run, and both are heavily used in the customer-services industry. It was surely only a matter of time…
However, this announcement is not about Microsoft Teams. The voice support which is coming to Dynamics is built on Azure Communication Services. You can think of this as the foundational layer which Teams is also built on, as this slide from Ignite helpfully illustrates: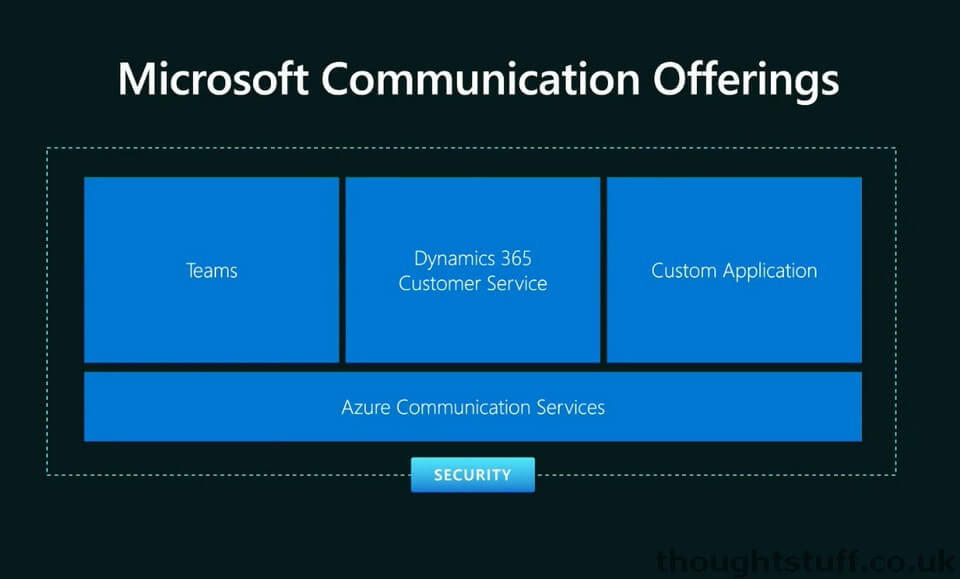 There is some overlap with the Microsoft Teams Contact Center API and associated solutions. There are 11 vendors in the process of certifying their solutions against the Connected Contact Center for Microsoft Teams Certification Program. These solutions already provide rich capabilities such as skills-based routing, Teams presence integration, Barge In, Wall Boards and more. In addition, some solutions already offer CRM Integration with Microsoft Dynamics.
This new offering will likely offer a richer integration experience with Microsoft Dynamics, being built directly into the solution and will mean the operator being able to stay in Dynamics whilst they take the call: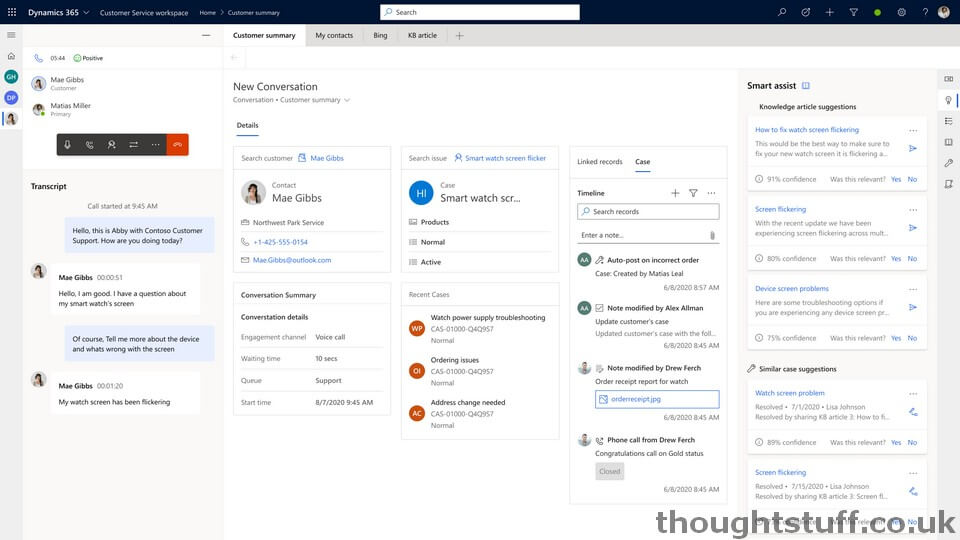 This provides a level of user experience which just isn't possible with Microsoft Teams today. Teams doesn't have a client-based SDK to extend and automate tasks such as answering/rejecting/transferring calls, or a way to react to incoming calls. The existing contact center solutions do a fine job with the APIs provided but I know they would love to do more.
Azure Communication Services flips things on its head, making it incredibly easy to embed client functionality into existing solutions, such as in the case of Dynamics. If the videos and screenshots from Microsoft Ignite are to be believed, this new offering will make answering and placing voice calls from right inside Dynamics a breeze.
However, if it's using Azure Communication Services (ACS), well, that's a very different offering to Microsoft Teams and Microsoft Phone System. If you're not using these already then you won't notice any problems. But, if you are…
ACS is paid for using Azure credits. You can't use your Microsoft Phone System credits, or any part of a Phone System bundle.
(as of today) there's no Direct Routing. In fact, there's no PSTN calling at all in ACS, although it is expected to go live imminently. There's currently no mention of support for any model other than purchasing numbers direct from Microsoft Azure. There is, however, going to be integration with "key Microsoft partners including Five9, Genesys, NICE InContact, Solgari, Tenfold, and Vonage". These partners will build connectors to enable their products within Dynamics Customer Service. It's interesting that at least half of those providers have also built integrations with Microsoft Teams.
There's no mention anywhere of any integration with Microsoft Teams for things like shared presence etc. This could mean that if an operator has Microsoft Teams and is also answering calls which come from ACS, they could be in a call and still show Available in Teams.
There's no mention of how to monitor and rectify any voice quality issues. There's no "Call Quality Dashboard" to go to.
It looks like service owners will need to make a choice in 2021: stick with Microsoft Teams for all telephony, keeping everything under one roof with numbers and costs in one place but accept a reduced experience for users, or switch to using the voice channel for Dynamics Customer Service for a more integrated experience, and deal with the admin and cost complexities.
Or, between now and this service launching, it may that there's a middle ground for those organisations using both Dynamics and Teams, which provides the best of both experiences. After all, both Dynamics and Teams use the same ACS technology and share a lot of the same desired outcomes: providing users with the tools they need to provide excellent service in a B2C environment.
We'll just have to wait and see.
Written by Tom Morgan

Tom is a Microsoft Teams Platform developer and Microsoft MVP who has been blogging for over a decade. Find out more.
---