How to: Get the Meeting Attendance Report of a meeting using Graph API
There's a new API call which has been added to the Graph API recently for Microsoft Teams meetings. This allows you to retrieve the "Meeting Attendance Report" for a specified meeting:
who the meeting organiser is, and their attendance time
each individual attendee, their role, and their attendance time
where a user leaves and re-joins, the intervals of attendance (start/end times)
for each attendee: tenant Id, display name, user Id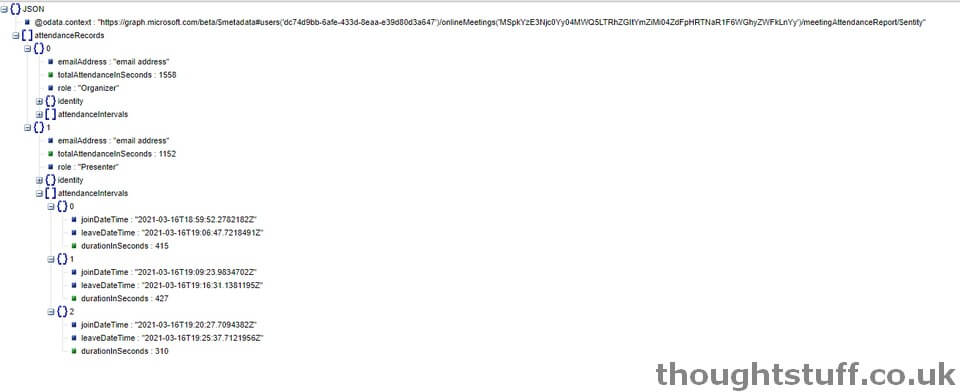 Meeting attendance reports are available for all meetings apart from live events. You can't get to them until the meeting has ended, and you need to be the meeting organiser to access them.
(for live events, there are separate API calls to get recordings and attendee reports)
Permissions needed: OnlineMeetings.Read or OnlineMeetings.ReadWrite
You can use Application permissions, but only through the use of an application access policy.
How to use
For a specified meeting, call /meetingAttendanceReport, for example:
GET https://graph.microsoft.com/beta/me/onlineMeetings/MSpkYz..R1Yy/meetingAttendanceReport
This API call is in Beta right now, and so should not be considered for production use.
More details on the Microsoft Docs site.
Written by Tom Morgan

Tom is a Microsoft Teams Platform developer and Microsoft MVP who has been blogging for over a decade. Find out more.
---