Productivity Tip: How To Save Hours When Watching YouTube Videos
Apologies if I'm the last person in the room to have spotted this, but I thought it was worth sharing.
If you watch a lot of training videos, conference speeches or product walk-throughs, you'll know that they can be useful sources of information, but sometimes they can really drag!
Often you're watching just to get an overview, or sometimes watching a product walk-through just to find out how to do one, specific thing. There can be a lot of fluff in videos, company introduction, selling other services etc etc.
Well, yesterday I noticed that it's possible, when watching YouTube videos to alter the playback rate. Just click the cog on the bottom right: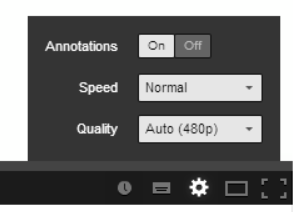 I've found that I can comfortably watch most content in 1.5 or 2 times speed. You'll need to be prepared to concentrate on it though, but this technique could save you hours and make you more productive!