Microsoft's Developer Blogs are moving. Here's what you need to know.
The only certainty is change.
Microsoft are about to move a bunch of their developer blogs onto a new blogging platform, which will offer a "clean design and powerful features that will make it easy for you to discover and share great content". Initially, all Visual Studio, IoTDev, and Premier Developer blogs will move in the next few days, followed by everything else later. Here's what you need to know.
Which blogs (exactly) are moving?
Initially, these are the blogs that are expected to start moving over, starting Wednesday, October 17th:
Visual Studio
IoT Developer
Premier Developer
Scripting (was Hey Scripting Guy)
Powershell
Setup (was HeathS)
TypeScript
Python
Mobile (VSApp Center + Xamarin)
DevOps
VC++
.NET
NET (was WebDev)
Csharp FAQ
VB Team
FSharp Team
PFX Team
WPF
SSDT
OData
Beth Massi
Brian Harry
ALM Rangers
VisualStudio-JPN
Will I have to update my bookmarks?
Initially, no. Auto-redirects should be in place to take you to the new URLs. Right now, we don't know what the new URLs are, but my guess would be that they will fall under the docs.microsoft.com domain.
However, once the update is in place, it's wise to update bookmarks so that you're not relying on a redirect which may one day go away.
What if I find problems?
If you find any issues with the new documentation, redirects or other problems, Microsoft encourages you to report them, via this survey.
If the problem is on the new layout or about the updated site, there is also a Feedback button you can use, as shown in the short video (which also provides a peek of the new layouts!):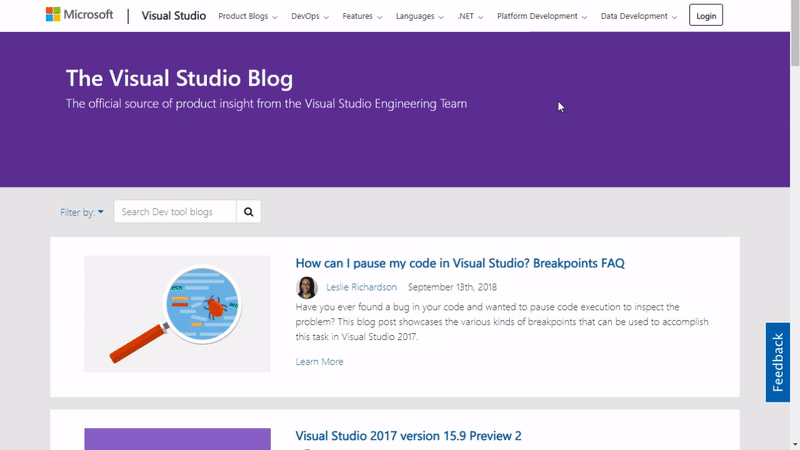 What about RSS?
That should still work as well (but again, wise to update with the new URLs once they are live). Again, if you find problems, report them.
Written by Tom Morgan

Tom is a Microsoft Teams Platform developer and Microsoft MVP who has been blogging for over a decade. Find out more.
---