Microsoft Edge (with Chromium) builds now out – First Thoughts for ORTC (Skype Web SDK) Developers
In case you missed the announcement the first time around, Microsoft is rewriting its Edge browser to make use of Chromium, which is the rendering engine used by Chrome.
The first Insider Builds of this new architecture are now ready for testing, and I wasted no time in finding out what this means for developers.
One of the outstanding questions which I've not been able to find an answer for has been around support for ORTC – a real-time media protocol similar to WebRTC, but not the same. ORTC was only supported by Edge and none of the other main browsers. However, ORTC was the protocol used to enable media flows in Skype Web SDK, the SDK used in Skype for Business to enable functionality in the browser.
From the very quick testing I've done, it would seem that the new Edge does NOT support ORTC (at least not today)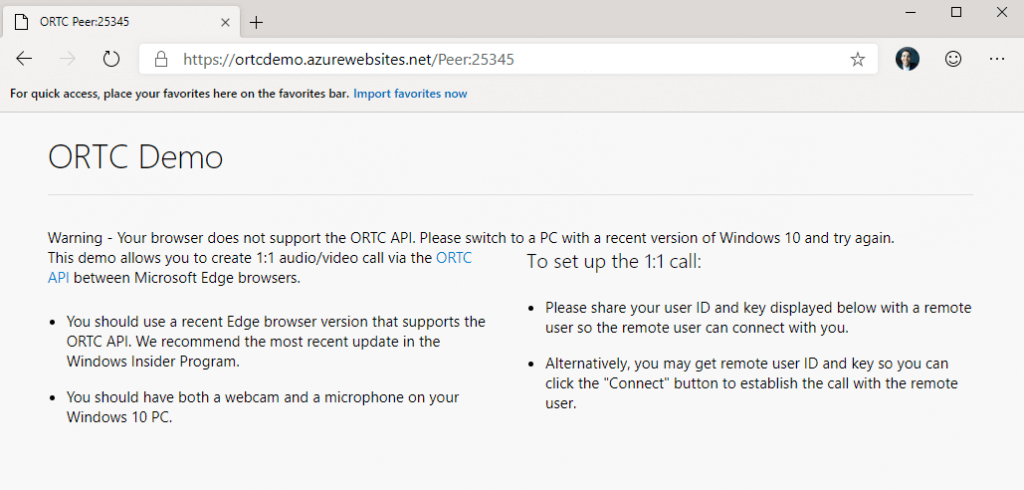 What does this mean for developers?
Based on just this information (which is the only information I have) it would appear that ORTC support in Edge will go away when these Insider Builds make their way out and become the next version of Edge. If you have code running today that relies on using ORTC (that is to say, any code using Skype Web SDK for audio/video in the browser) then you should either make sure that users are not going to upgrade Edge to a version which stops it working, or plan to migrate off ORTC. Alternatively, users can download and use the Skype for Business Web App Plug-in to enable audio/video functionality.
The Supported Browser list for Skype Web SDK is still showing Microsoft Edge as a supported browser for audio & video, but I expect that will change as Edge with Chromium makes its way out to GA. (unless Edge changes to include ORTC support)
One of the challenges is that there isn't a great migration strategy today. Currently, Microsoft Teams does not have an equivalent SDK to enable in-browser functionality.
I've asked for clarification on whether ORTC will be supported in Edge by the time Chromium becomes the rendering engine in the GA builds, and if I find anything I'll let you know.
Written by Tom Morgan

Tom is a Microsoft Teams Platform developer and Microsoft MVP who has been blogging for over a decade. Find out more.
---