Review: Logitech Zone Wireless – my 2020 Lockdown Headset
Disclaimer: Logitech kindly sent me this headset, enabling me to write this review. This post may contain affiliate links.
Overnight, without warning, many of us were working at home. Not just "sometimes working at home", not "working at home when not travelling", not even "working at home when everyone else is out", but proper, alongside everyone else in the home, all trying to get along, working at home.
As we cleared our desks, grabbed what we thought we'd need for – well, we didn't really know, I guessed maybe a month (!!) – and headed home, likely one of the things we made sure we had was our headset. Little did we know, back in March, that we'd be using it so much for so long.
Why a good headset is even more important today than ever
"right now I think having a decent headset and webcam are 
critical
components of your setup. Why? Because these two devices are the means by which 100% of your interaction happens."
Tweet This
A good quality headset has always been an important part of a successful UC strategy, and we are lucky to have plenty of choice. However, right now I think having a decent headset and webcam are critical components of your setup. Why? Because these two devices are the means by which 100% of your interaction happens. Your co-workers, your partners, your customers: they all experience you through these two devices.
If you are to bring your best self to a meeting, be taken seriously and land your point – then in 2020, more so than ever, you need to consider what devices you are using and whether they are helping you to achieve those goals.
What is a Lockdown Headset?
There's something else. The requirements for a headset in lockdown are different from working in an office.
Way, way different.
In an office:
dedicated desk space, charging dock on hand
plenty of time between uses for charging
background office noise
In lockdown:
sometimes at a desk, sometimes in the lounge, sometimes in the kitchen, depending on what everyone else is doing. Can't rely on the charging dock being there
Up to 8 hours a day solid use
Sporadic charging due to having to go from "working" to "home" and not having time to charge
still plenty of background noise
causing annoyance to other people in the house because your active noise cancelling means you're shouting during calls
having to "share" your device with small people who want to try it on without respecting it like you do
It's a harsher environment than the average office. A headset that's right for the office might turn out to be a problem in lockdown. Unfortunately, none of us got the choice when it happened. We grabbed what we had, and headed home.
Logitech Zone Wireless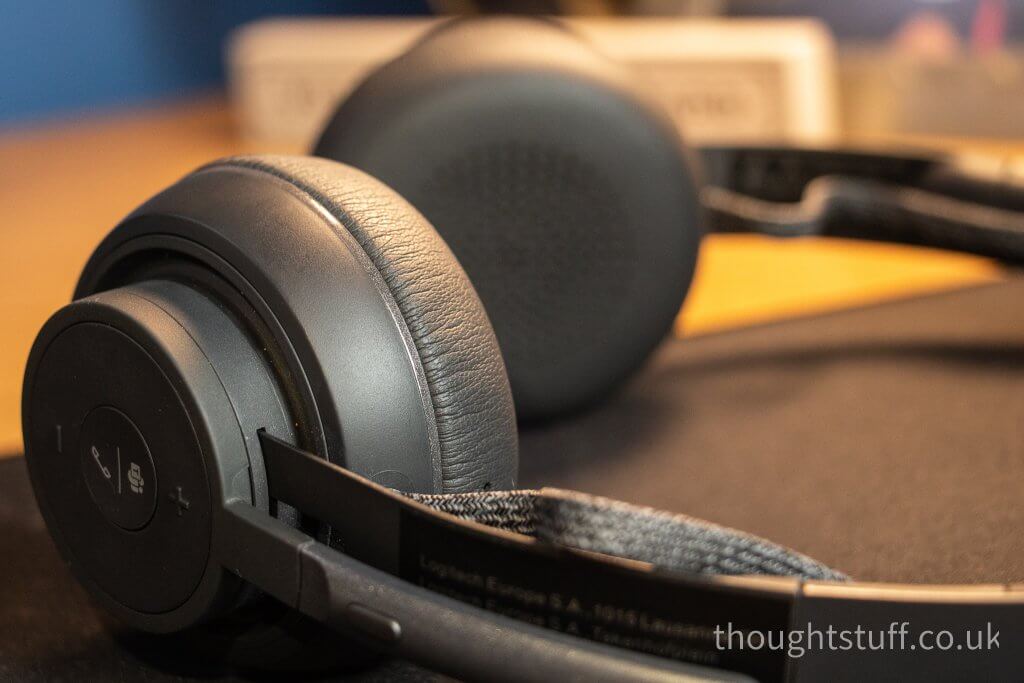 It's against this backdrop that I review the Logitech Zone Wireless headset, because I feel like that's the reality for many people today.
This is a Bluetooth headset, which comes with a USB dongle. You can pair with multiple devices (your computer and your phone) – well, up to 8 devices, with 2 connected at any time.
It's a boom headset – which I like. Boom-less headsets might look cool, but the microphone quality is never as good, sorry.
In many respects it does everything you'd expect a Microsoft Teams certified headset to do. I'm going to concentrate here on the things that are different.
Comfort
I can happily wear this headset for 12 hours at a time. I have done, on multiple occasions in the last couple of weeks. The headband expands with a slider, it doesn't have "clicking" set points – meaning you can get it exactly right. The ear pads are made of something like leather (but they don't smell like leather so I guess not) and are padded for comfort. They're quite large (7cm across) which I think helps with the comfort. Here are two photos: first the stock photo from Logitech's website, and then my photo of the unit I have: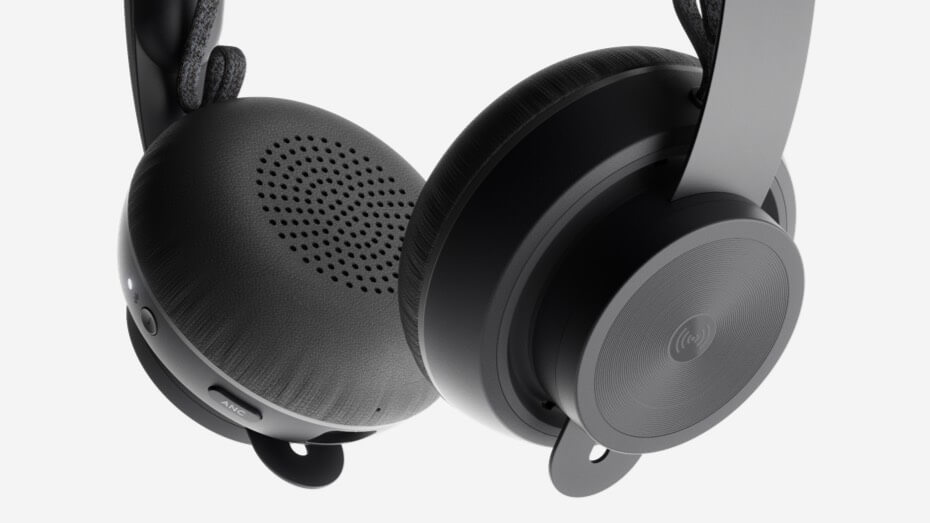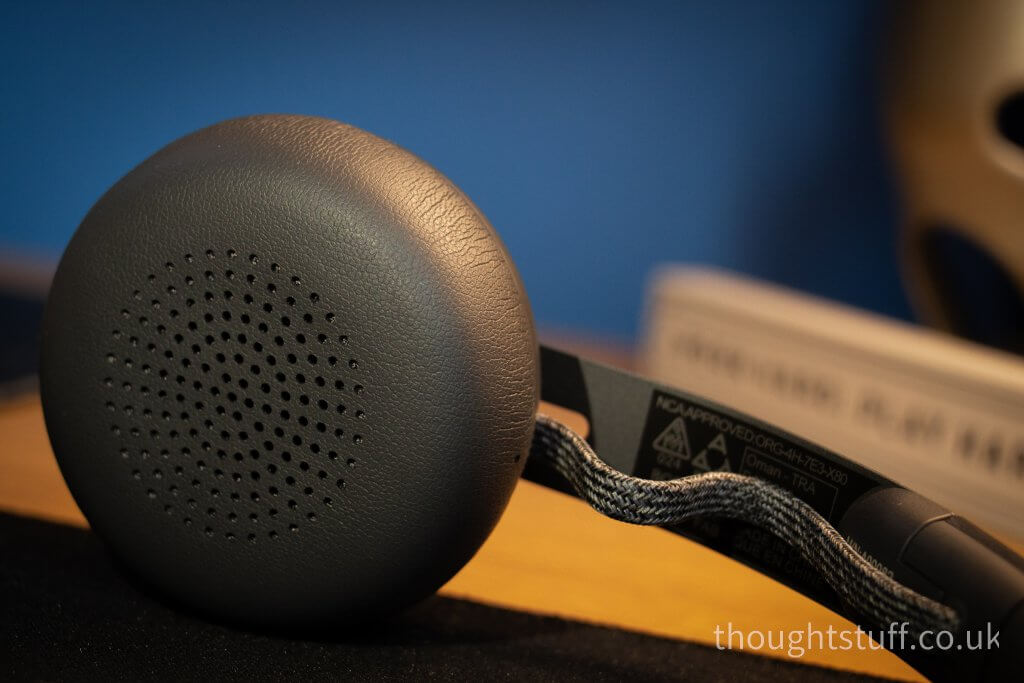 My own workflow is to have them connected to both computer and phone, and then listen to music from my phone when I need to concentrate in between calls I run on my computer. Right now I'm listening to the Calm app, trying to de-stress. The sound is immersive, all I can hear are the birds singing, the water in the background and the soothing voice instructing me to concentrate on my breathing….
Interestingly, the boom for this headset is on the left, not on the right. I'm not sure if this is usual or not – but for the longest time I was wearing it the wrong way around. It doesn't really matter, other than it seems to be slightly uncomfortable after several hours when you're wearing it like that. This is NOT super obvious – there are left/right markings on the inside of the headband, but they don't stand out. I thought maybe it was just me, but even Logitech's stock product shots appear to show them with the boom extended for wearing the "wrong" way around: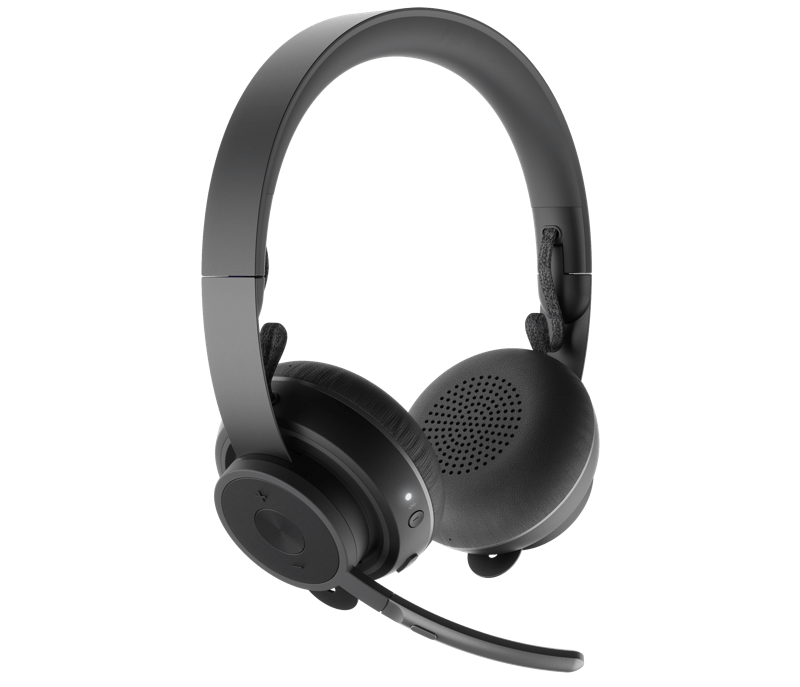 Maybe how you wear them doesn't matter, other than to effect the audio channels? This would seem to be the case actually, given that the boom does extend both ways.
Buttons
The on-headset buttons are what you'd expect: volume, on/off/pair, ANC, and the Microsoft Teams button. The Teams button is actually configurable via the Logi Tune app, meaning you can map single press, double press and long press to different actions.
I have mapped the double press action to the "Headset status report" which tells me the battery state. This is really useful when I've finished the call and had to run to do something, putting the headset down and then forgetting about it, only coming back to it 2 mins before another call hours later.
Also worth noting is that you can configure the sleep settings via the app as well – meaning that if you do leave it on, it won't drain the battery overnight.
All the buttons are touch-press buttons. Personally, I tend to prefer toggle switches because it's more obvious what the current state is. Also, I find combining the power on/off button with the pairing button confusing – I sometimes hold the power button too long when I'm turning on or off and end up putting the device into pairing mode.
Durability
Some headsets feel like you have to handle them with kid gloves. This isn't one of them. It feels sturdy, with metal arms and a firmness to it. The wires for each side are unusually on the outside of the sides of the headband, not integrated into it. I guess that this actually makes it stronger. It's not unpleasant to look at, but it might take some getting used to (although, once it's on you don't see it!).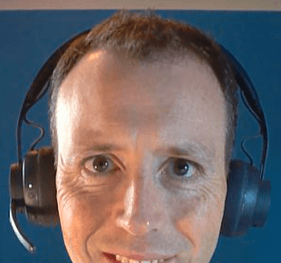 It's successfully withstood some fairly robust handling from the smallest member of the house, who loves pretending to "work like Daddy"…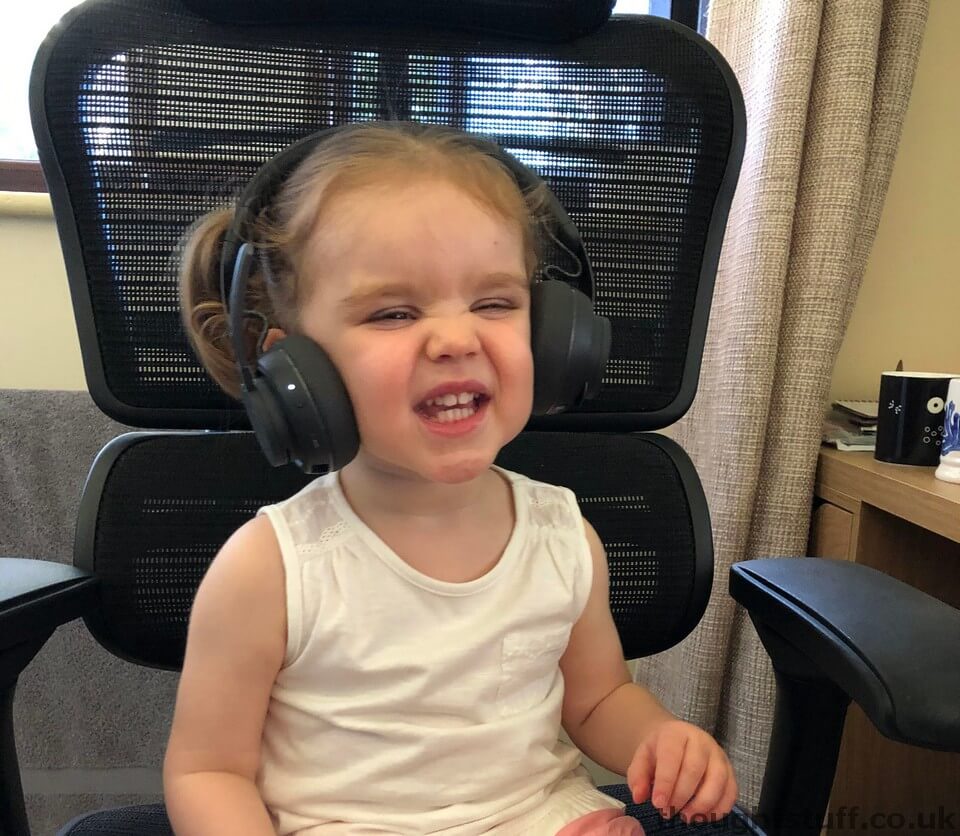 Battery & Charging
The battery life is great. It's advertised as 14 hours talk or music (with ANC on). I've not tried that but I've used it solidly for 6 hours already today on back-to-back calls, and the battery is at 70% with the status telling me "8 hours left".
One really interesting thing about this headset is that you can charge it wirelessly, using any Qi charger. This has been a huge win for me in lockdown – we already have a number of wireless chargers around the house, so I can take calls from multiple places and then leave my headset there overnight rather than taking it back to my study to charge it. It sounds like a silly thing, but my study is next door to the nursery and so there are very definite "no-entry" times if I don't want to be responsible for ruining a good night's sleep…
The charging point is the ear piece that doesn't have the boom. All the photos show the headset charging whilst folded up, like this: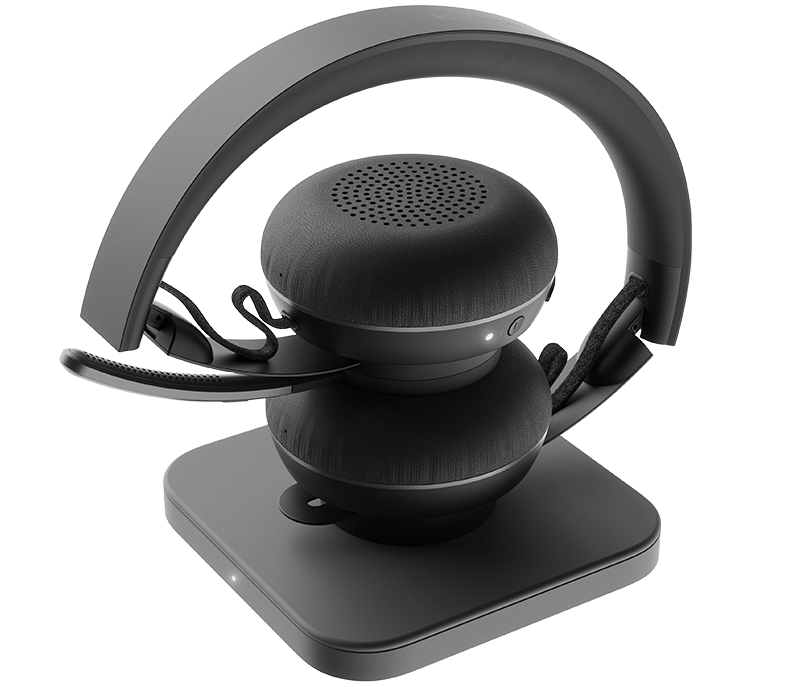 However, I found it easier to just place it onto the charger un-folded, like this: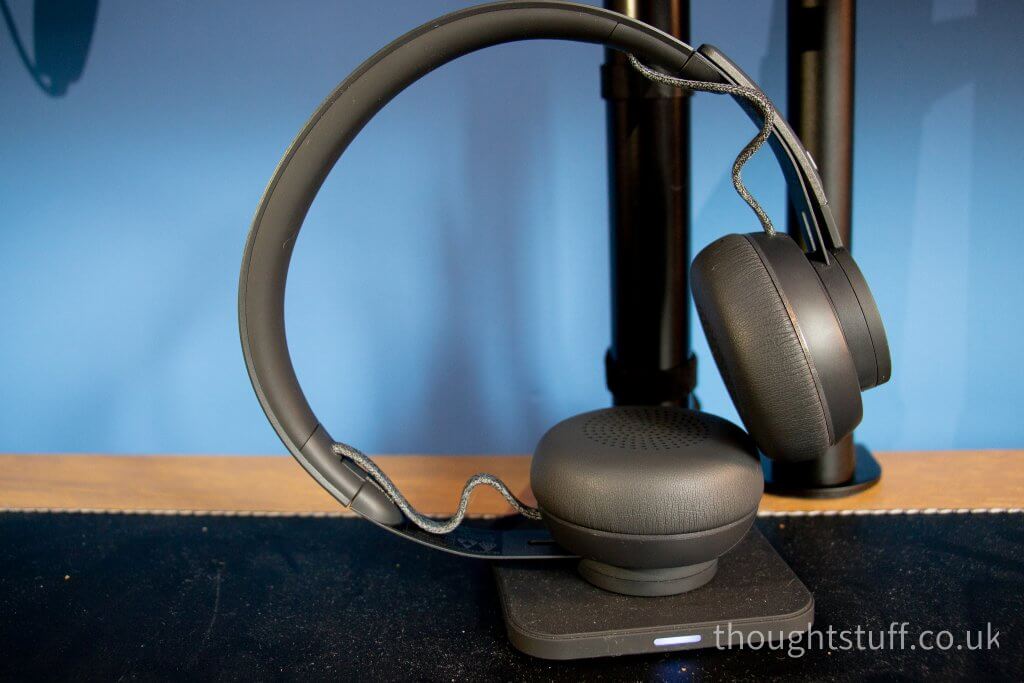 That way, it's ready for use and I can just grab it and put it on.
This has been a bit of a game-changer for me. I can add more headset charging points anywhere I like, for relatively little money by using standard Qi chargers. Note though, that by default the wireless charger isn't included – only a USB cable for charging. Qi chargers aren't expensive, just letting you know. 🙂
Microphone / ANC
I recorded a short video using the Logitech Zone Wireless headset as the audio input source, both in a quiet room and with noisy cafe background sounds. Hopefully this will help you get a feel for how it sounds and how the Active Noise Cancelling works:
Other Stuff
The Logi Tune also has an option to adjust Sidetone. This controls how much of your own voice you hear through the headset. Not all headsets with ANC have this, but they should. Without Sidetone, you can't hear yourself properly and are way more prone to shouting. In the office this just gets you a reputation. At home, this gets you yelled at. 🙂
By cranking the Sidetone right up I can make sure that I don't raise my voice too much, and disturb everyone else. It's a silly, small thing – but when everyone is living within the same four walls, stuff like that really does make a difference.
Conclusion
I like this headset. It's become my daily driver throughout lockdown. It's not failed me yet: I've never found it without charge and I've not had to plug it in during a call. Given how much I've been on Microsoft Teams in the past few weeks: that's a real achievement. Personally, the On/Off/Pair button still annoys me – but I've got around that by just keeping it on all the time and putting it on the wireless charger when I'm not using it. If you're after a solid workhorse that will make you sound good, then you should definitely consider the Logitech Zone Wireless headset.
Written by Tom Morgan

Tom is a Microsoft Teams Platform developer and Microsoft MVP who has been blogging for over a decade. Find out more.
---