Microsoft announces first-party integration between Microsoft Teams and Dynamics 365 for Chat & Voice (and more)
At Microsoft Ignite 2021, Microsoft announced a slew of integrations between Microsoft Teams and Dynamics 365, including full chat and & voice integration.
All of these were announced in the session Microsoft Teams + Dynamics 365: The unified collaboration platform for modern business, which talked about them coming in "the upcoming release" of Dynamics 365. For each feature, I've tried to track down when we can expect it to be available.
I think that all these announcements are from the Dynamics 365 2021 Release Wave 1 Plan (but I'm not at all sure), which details work due to released between April 2021 and September 2021, although I've found it hard to find exact matches with the things announced. Looking at the detailed PDF, the voice integration looks like it's GA in August 2021 – but I'm not certain on that.
Here's what got announced:
Follow up on events hosted in Microsoft Teams using Dynamics Marketing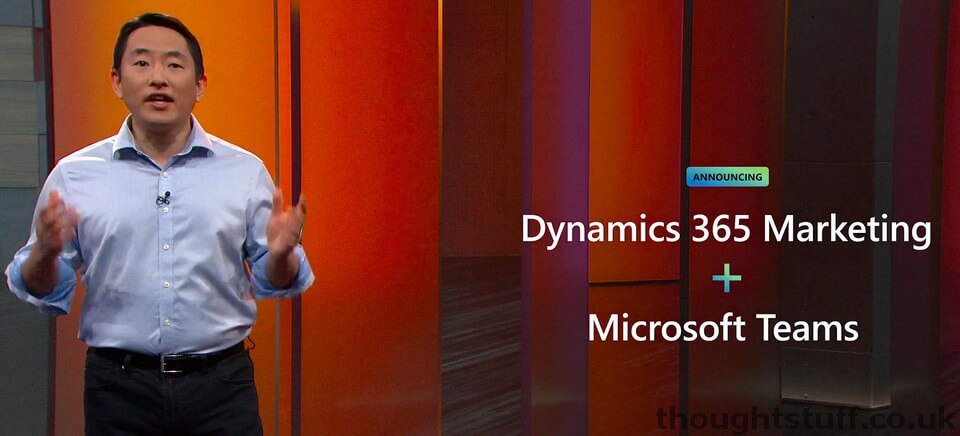 When setting up an event in Dynamics, there is now integration with Microsoft Teams Webinars, which is the default option for new online events: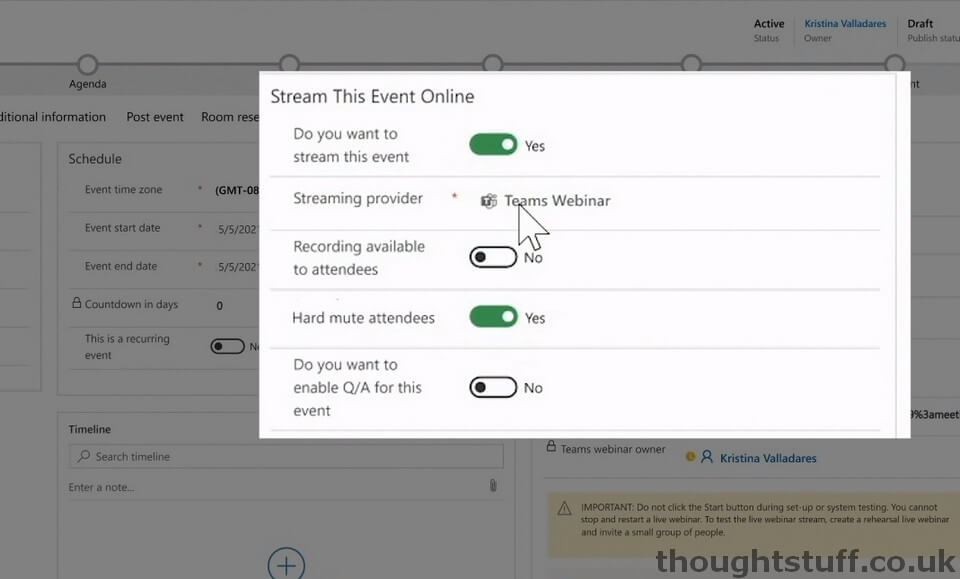 This just automates the webinar creation process though, which can also be done in Teams. What's more interesting is that after the event, as well as the participant list available in Teams, there is an additional "follow up with participants" button which opens Dynamics:

The participant list is imported into Dynamics and segmented by activity, with template journeys for each segment.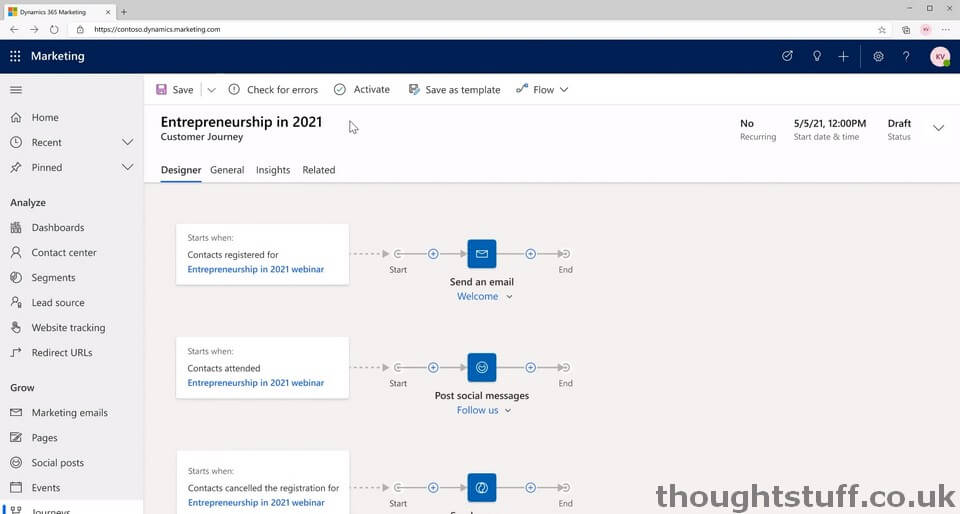 This is fully customised so that you can set up your own journey as you wish, like this: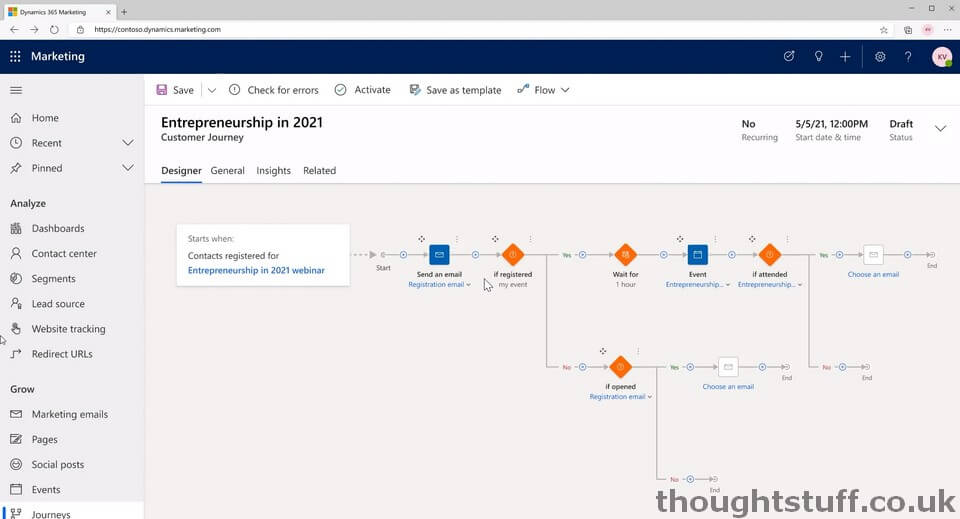 If all this looks interesting, Microsoft also announced that E3 and E5 license holders can get 6 months of free Dynamics 365 Marketing, to try this out. More details on this offer will be shared soon, say Microsoft.
Voice, Chat and AI with Dynamics 365 Sales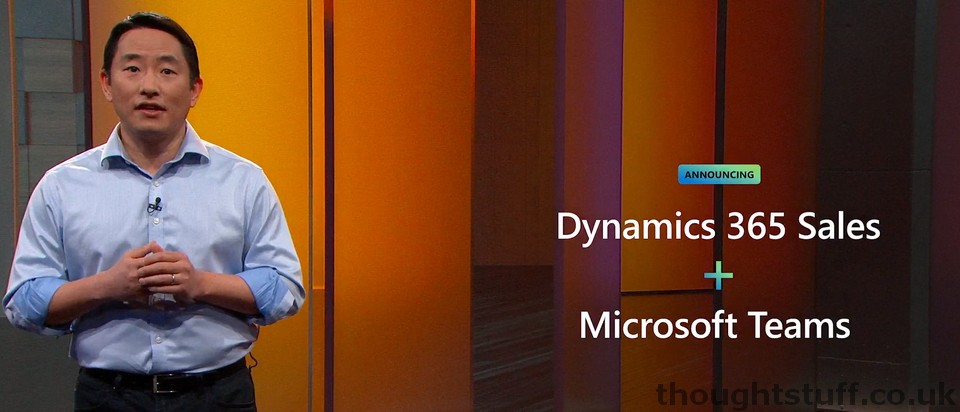 Microsoft Teams chats are now integrated into Dynamics 365 Sales, and users can reply and continue conversations from within Dynamics:

Chat can be popped out to reply: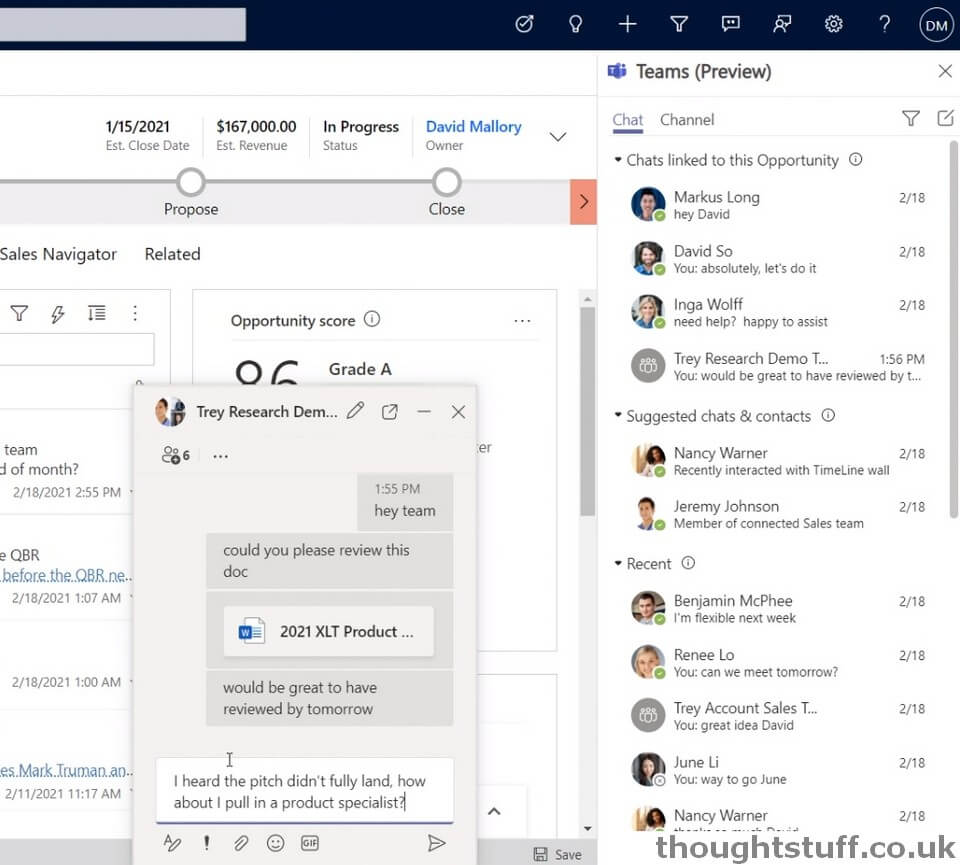 A seller can also directly Call a customer, from within Dynamics, which opens a call screen in Dynamics: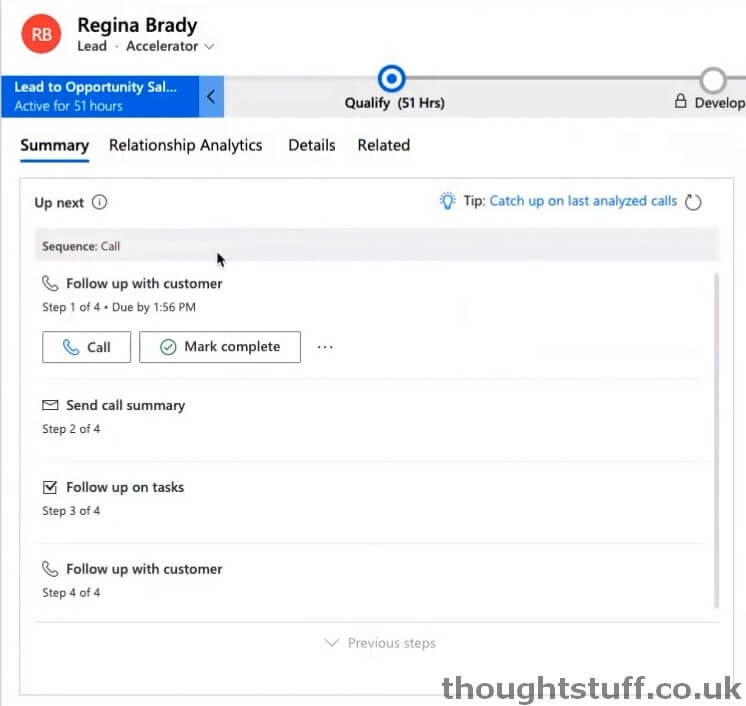 The experience is being referred to as a "Team dialler", and the title of the Dynamics pop-out is "Teams calls (preview)" so I think it's fair to assume that this is a genuine Microsoft Teams call that's being made, rather than an ACS call to a meeting in Teams or something. This is important because there are lots of reason why having both Teams and ACS in the mix could cause complications (see my Day 4 discussion about this in the Learn ACS series).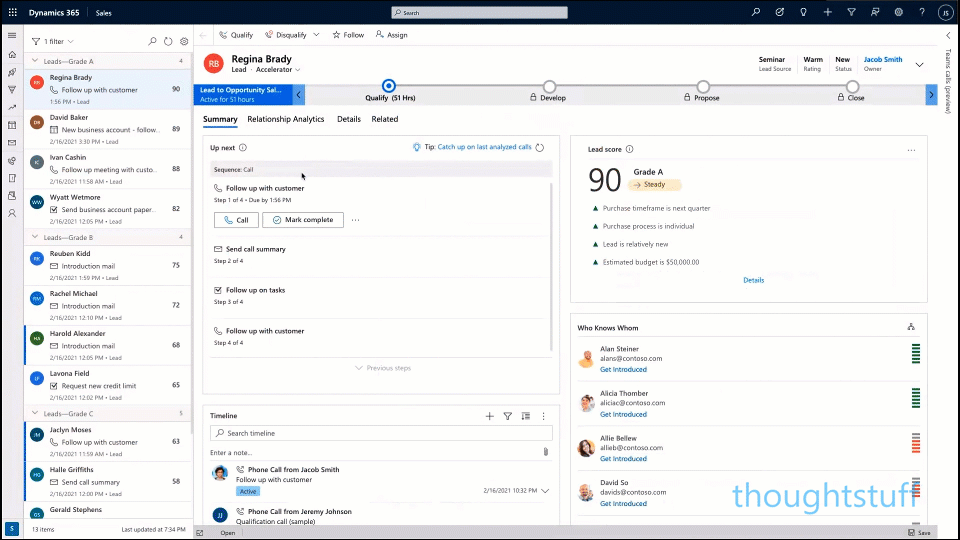 In addition, transcription of the call takes place in real-time, with key information such as names, company names and amounts highlighted.
For meetings, there is also a new In-Meeting application for Dynamics 365 Sales which plays that same information, meaning that if sellers need to use the Teams client to watch/drive a presentation they can do.
It's not clear to me from the demo whether this in-meeting application experience will also be there for peer-to-peer calls or just for meetings. Right now in Microsoft Teams, in-meeting apps are just for meetings, and you can't have them in peer-to-peer calls, so maybe that's something that will come later.
After the call wraps-up, from within Dynamics 365, a seller will be able to review the call, including the transcript, a recording, plus sentiment of the call: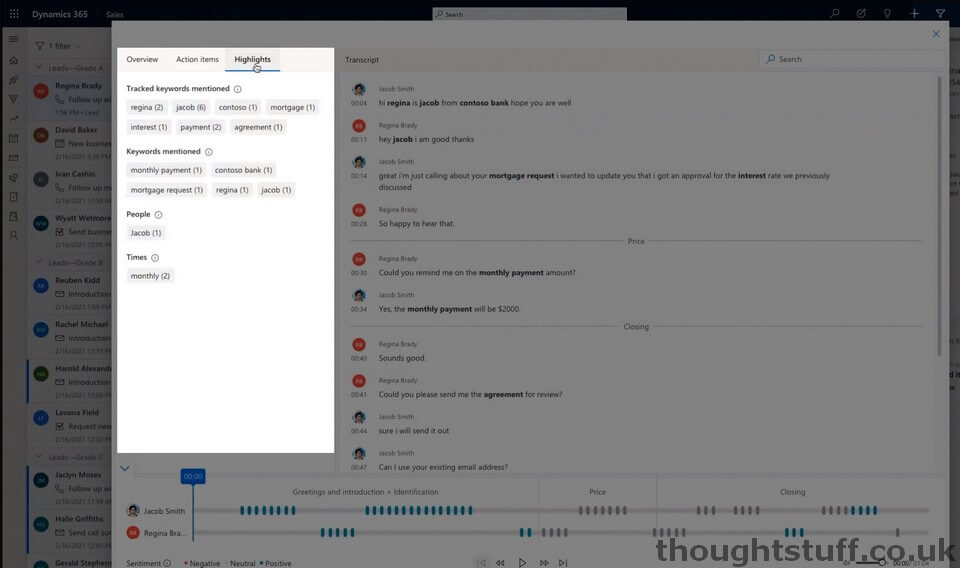 Dynamics 365 data available in Microsoft Teams
Finally, there is a messaging extension for Dynamics 365 which allows users to quickly find and post Opportunities, Lead, Accounts and more:

This posts an adaptive card that can be edited (well, the basic information anyway) right from within Teams, without requiring a trip to Dynamics just to change a small detail: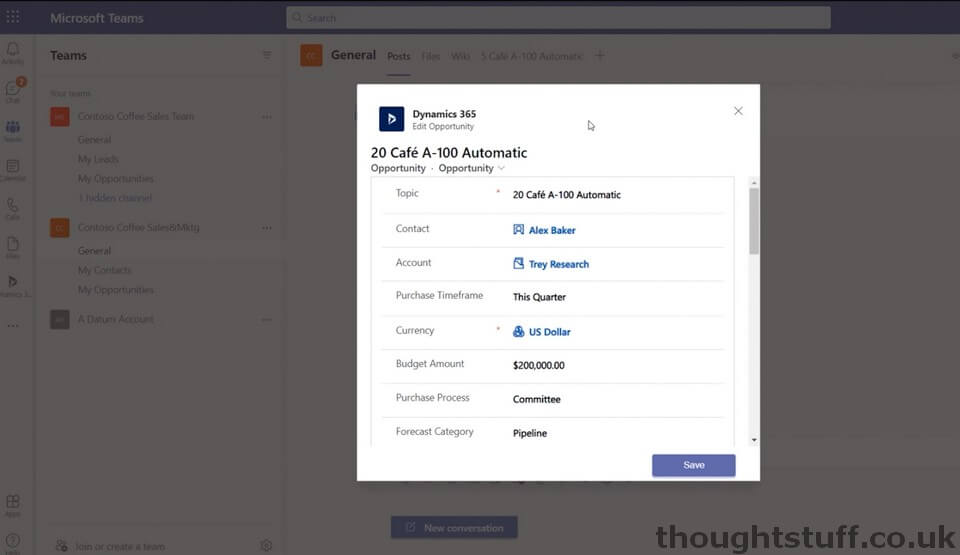 Users can also right-click a conversation message and create a Task in Dynamics directly from Teams: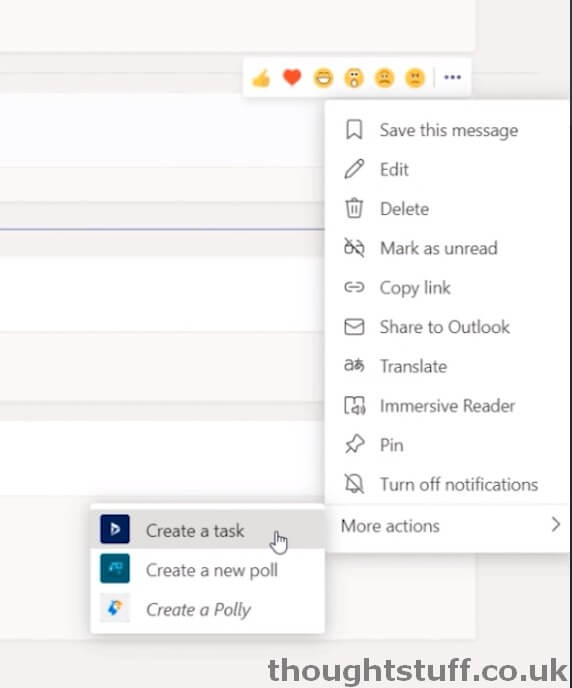 Integrate Tasks between Dynamics & Teams for first-line workers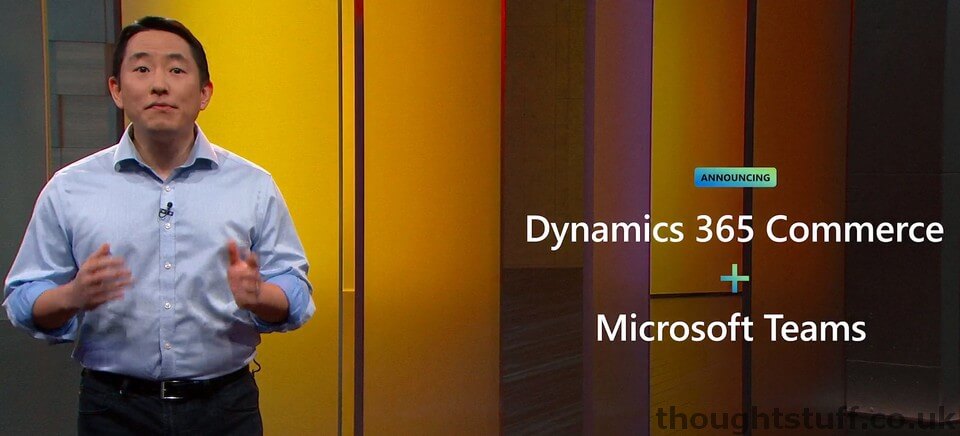 There are also integrations for first-line workers – specifically between tasks in Dynamics 365 Commerce and Microsoft Teams, giving end-users the choice of where they view and manage those tasks, and ensuring they always stay in sync.
Managers can create tasks in Teams, with integration to Dynamics meaning they can see all their stores – it's not clear to me whether they HAVE to be imported as Teams and Channels as was shown or not: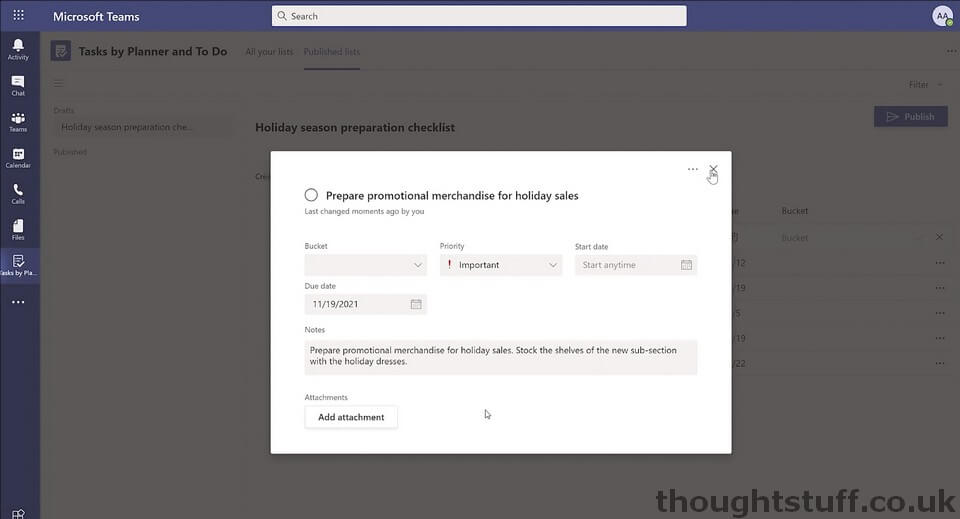 Store manages can use their POS applications to view those Tasks, assign them and mark them completed: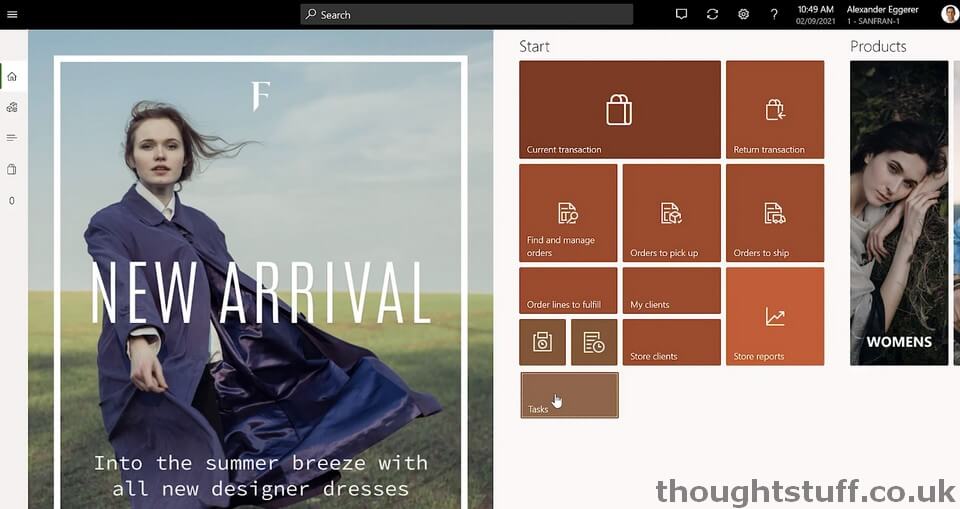 Employees can use the Tasks application in Microsoft Teams (including on mobile) to view and update tasks:
Programmatic tasks and checking in customers for kerb-side pickup were also mentioned as features coming soon to this integration.
---
This is an impressive list of integration points, which I'm sure customers using both Dynamics 365 and Microsoft Teams will be eager to try out. For more information, I'd suggest watching the session Microsoft Teams + Dynamics 365: The unified collaboration platform for modern business, or reading the Microsoft blog post: Dynamics 365 and Microsoft Teams: extend collaboration across teams.
Written by Tom Morgan

Tom is a Microsoft Teams Platform developer and Microsoft MVP who has been blogging for over a decade. Find out more.
---