Microsoft Build 2022 Session scheduler is now live! Go make your perfect Build!
With 2 weeks to go until it starts, the Session scheduler for Microsoft Build 2022 has gone live, giving anyone who has registered access to view the sessions that will be delivered, and start to build their own schedule of talks they wish to attend.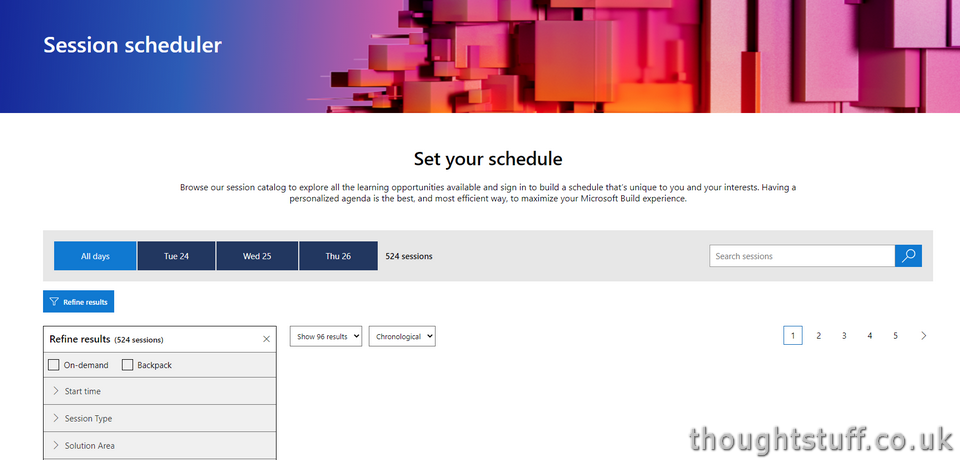 This year, there are over 500 sessions, with a little over 75% of them being delivered live (the others are on-demand sessions).
This year, Build looks like it is going to be a much more collaborative event as well, with nearly 40% of the sessions being Connection Zone sessions (which are meant to be more like informed discussions between attendees and presenters), and 16% of sessions being Product Roundtables (where Microsoft look for feedback about specific areas of functionality). There are still Keynotes and Breakout sessions of course, but these make up only 22% of the live content.
In what won't be a surprise, nearly 50% of the content is focused on Microsoft Azure, with Microsoft 365 and Power Platform taking second and third place respectively. There are 25 Microsoft Teams sessions (although these include some repeats and language varieties). Taking those out, I think there are probably 15 discrete sessions focused on Microsoft Teams Platform Development, which is great to see.
I'm going to be doing a full video and separate blog post about my Microsoft Build picks, but I wanted to highlight two things I noticed from skimming through the sessions.
Charles & Jeff talk Teams and Power Platform
Charles Lamanna (CVP for BAP which includes Power Platform) is joining Jeff Teper (CVP for Teams) to talk about building apps that "help over 270M Microsoft Teams users thrive in hybrid work". Could this mean more integration between Teams and Power Platform, or more ways to use Power Platform to create Teams apps? Check out the session: Innovate with collaborative apps and low code (microsoft.com)
Panos & Kevin talks about Windows for developers
Panos Panay (EVP & Chief Product Officer, in charge of Windows & Devices), Kevin Gallo (CVP for Dev Platform) and others are going to be talking about developers can use the "open platform and open store of Windows" to "power your app development". I'm not sure what that is, and wonder if there could be an announcement here, as it's quite a vague description and I don't think Panos usually talks at Build? Check out the session: Create next-gen experiences at scale with Windows (microsoft.com)
---
If you haven't yet done so, you can register to attend Microsoft Build for free, and start building your own session schedule today!
Written by Tom Morgan

Tom is a Microsoft Teams Platform developer and Microsoft MVP who has been blogging for over a decade. Find out more.
---