LyncMe Updated – Product Updates, New Platform Features
Since my last post introducing LyncMe just over a year ago, we've been working on improving LyncMe in two key areas: products and features.
If you don't know what LyncMe is you'll probably want to go back and read the original post – Introducing LyncMe. LyncMe is the collective name for a suite of applications built on top of Microsoft Lync which enhance how your business runs. It's offered by Modality Systems in two ways: on-premise or hosted. All the products are available as a cloud-based solution with a management portal and applications which are accessed via federation. More information on the Modality LyncMe page.
Product Updates
LyncMe now supports 4 products: TrainMe, AlertMe, SurveyMe and HelpMe.
TrainMe
TrainMe delivers video training content to users. It's integrated with Lync in two ways: the videos are shown right within the Lync client so the user doesn't have to navigate anywhere. Secondly, users are prompted to watch training videos via Instant Message, only when they're available. This combination of approaching users at just the right time and bringing the content to them improves training take-up.
Over the past year we've rolled out the following features:
Support for multiple groups of training content. Training Bundles group together training videos, meaning you can offer users more than one set of training at a time. Each bundle is treated separately and has its own workflow so users can progress through each one at a different pace.
Extra video/presentation formats: including support for Windows Media (wmv), SWF, and FLV files.
Custom training content: you can link to your own videos to create training bundles on whatever you want
Scheduling & Expiry options to control when training is delivered to users
Reporting of who's watched what, including CSV downloads
Integration with Active Directory for keeping recipient lists up to date
There's more information on TrainMe on the Modality TrainMe page.
AlertMe & SurveyMe
AlertMe is a Corporate Announcement Tool. You can use it to distribute the latest video message from CEO, the latest status update from your IT department, or an important policy change which you need to track who's read for compliance reasons. SurveyMe is a survey engine. You can create surveys to send to your users, which they complete with Microsoft Lync. You then get full reporting on results.
Over the past year we've made some stability and performance improvements to both AlertMe & SurveyMe, and introduced Active Directory integration for keeping recipient lists up to date.
There's more information on the Modality AlertMe and SurveyMe pages.
HelpMe
We've added a new product to the LyncMe family – HelpMe.
HelpMe is a "find an expert" application, which uses Instant Messaging to connect users to support services. Designed for support desks / service centres, users use Microsoft Lync to contact a HelpMe application, which then intelligently routes to an available agent. HelpMe supports Audio, Video, Desktop Sharing and Conferencing making it easy to resolve problems. There's more information on the Modality HelpMe page.
Platform Features
We've added the following platform features to LyncMe over the past few months:
Registration & Setup – We've made it really easy to get going with LyncMe. There's a one-page registration process, and we've automated all the infrastructure setup so your new account is provisioned on our hosting platform within 5 minutes.
Platform Dashboard – We've introduced a new dashboard, showing your licenses and license usage, and the applications you've created, along with their status. This is now your default view when you log into the platform.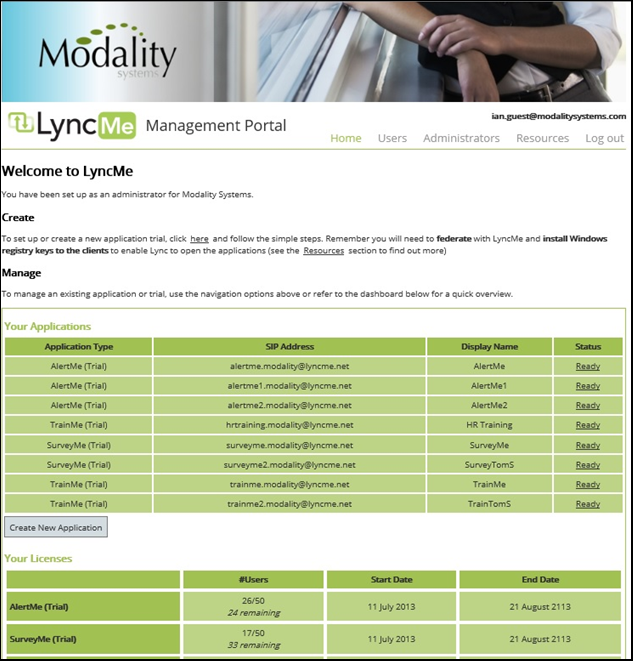 Application Creation – We've also made it super-simple to create LyncMe applications. We've abstracted away everything you need to know about provisioning new applications on Lync – providing you with a simple wizard for creating new LyncMe applications. Your new application is created on our platform within minutes and you'll be emailed when it's done.

Summary
There's been some big changes to LyncMe over the past few months. If you haven't tried it yet, I encourage you to do so. You can request a free trial of both the products and the platform on the Modality LyncMe page and start using all the features today.