Introducing AutoAssist for Microsoft Lync – free support tool
I'm thrilled to finally be able to lift the wraps on this. From today, I'm making available a new support-assistance tool for the Lync Community. It's called AutoAssist for Microsoft Lync and it allows support assistants to remotely begin a Desktop Sharing session on a remote user's computer.
As a Support Technicican, I need to be able to start remote control on a user's desktop without them needing to do anything.
The user doesn't need to know how Lync sharing works, they just see a friendly popup window with the details of the person who requested the sharing: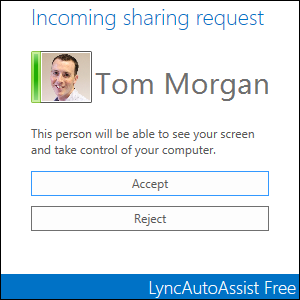 As a user, I expect that my Support Team can see what problem I'm having so they can assist me.
You can download a copy for free right now, at:
AutoAssist for Microsoft Lync is free to download and use. If you require more control over who can start a sharing request, or you need custom branding, Lync 2010 integration, extra features, or a support contract, let me know – we'll work something out.
Written by Tom Morgan

Tom is a Microsoft Teams Platform developer and Microsoft MVP who has been blogging for over a decade. Find out more.
---