Microsoft Lync to become Skype for Business
Today, Gurdeep Singh, corporate vice president for Skype, announced a major change to Microsoft Lync.
From the first half of 2015 the Lync name will be no more. Lync is being renamed, and will be called Skype for Business.
Skype for Business isn't a new product, it's the new name for the next version of Lync. I'm starting a new acronym right now – SfB. You heard it here first.
Launch Date
For what is I think the first time publicly, the next version of Lync/SfB has been announced as the first half of 2015. If you have Lync on-premise, you'll change when you upgrade. If you have Office365, it'll happen automatically.
So, What Does It Mean?
Firstly, Lync-Skype integration will be seamless. Currently, it's a bit patchy: it only works for Audio and IM, and only for some Skype users (the ones with Live IDs). In the next version, "Skype for Business adds video calling and the Skype user directory making it possible to call any Skype user on any device." (Gurdeep Singh). From that sentence, it sounds like they nailed Skype<>Lync video calling, and made it work for everyone on Skype.
We'll have to wait and see for the specifics. But, generally – the name change appears to reflect Microsoft attempting to bridge the gap between business and consumer communications. If I'm a heavy Skype user, it would be great to be able to contact my bank via Skype. And there are definitely advantages to businesses in being able to reach out to users. It'll be interesting to see how they trade access to user data with privacy concerns. For instance, will the Skype user directory just show user details, or will it allow businesses to search by particular demographics, so they can target potential customers? Will a turn-on for business become a turn-off for customers?
Large enterprises will also want to be assured that this opening up comes with the necessary checks and balances. For example, will there be appropriate policies to allow administrators to prevent users for adding Skype contacts to their contact list. One of Lync's key advantages to big business is that's it's a closed environment and Microsoft need to make sure they don't jeopardize that.
As a developer, I'm most interested in what this means for the multiple SDKs and APIs that build on Lync. Microsoft notably pulled all the Skype APIs a year or so ago (now we see why!), but I'm hoping that they will continue to invest in development platforms. Also, we'll have to see if any of the existing Lync APIs come to the standard Skype client.
A new client look & feel
We also have a screenshot of the next version of the SfB client: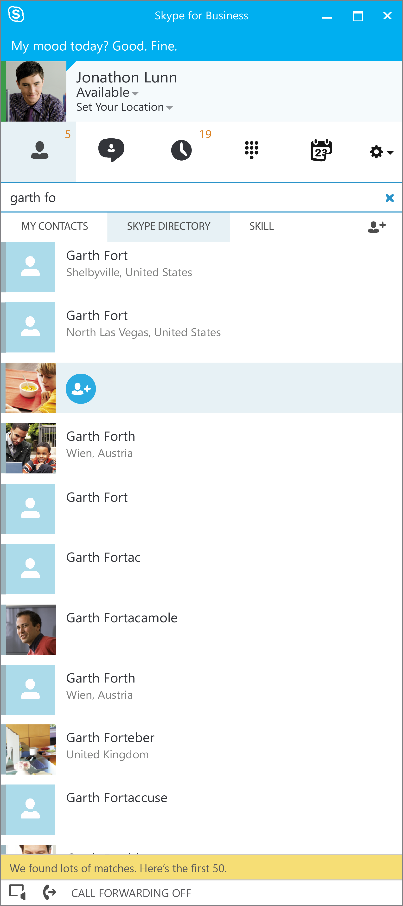 Obviously I haven't had a chance to look at it or play with it yet, but from that screenshot, I'd suggest that it's essentially the Lync 2013 client, re-branded. The navigational fireplace looks very similar – the Skype Directory is the only really new thing on show there. Hopefully that means that Conversation Window Extensions, and the Lync client SDK will continue to be there.
Why not Lync for Customers?
I think I know why not! 😉 But seriously, it's interesting to think about why the Skype name was chosen over the Lync one. It says something about where Microsoft is trying to position itself in the communications market, who it's trying to appeal to, and where it thinks future growth is going to be. They're really focusing on user-interaction as a way of enabling business to do business.
Let's go BUILD!
Savvy Lync developers who want to maximize their futures would do well to consider what possibilities the Lync/Skype mash-up opens up. Change is a chance to do something different, better. Having access to the Skype user base could be a huge opportunity to produce life-changing communication software. I'm super-excited about what this brings, and I can't wait for more details (and of course, I'll share them with you).
Written by Tom Morgan

Tom is a Microsoft Teams Platform developer and Microsoft MVP who has been blogging for over a decade. Find out more.
---