The future of Skype for Business Development in Office 365
One of the sessions that I wanted to watch at Ignite was: Get Your Hands Dirty with the Office 365 RESTful APIs by Rob Howard. I'm excited about some of the changes being made to the Office 365 developer experience and wanted to find out more about what was happening. I finally managed to listen to it last night.
Office has a whole slew of different APIs – it's not just Outlook integration! It's OneNote, and Yammer, and Word, and PowerPoint, and Excel, and Delve, and OneDrive etc etc.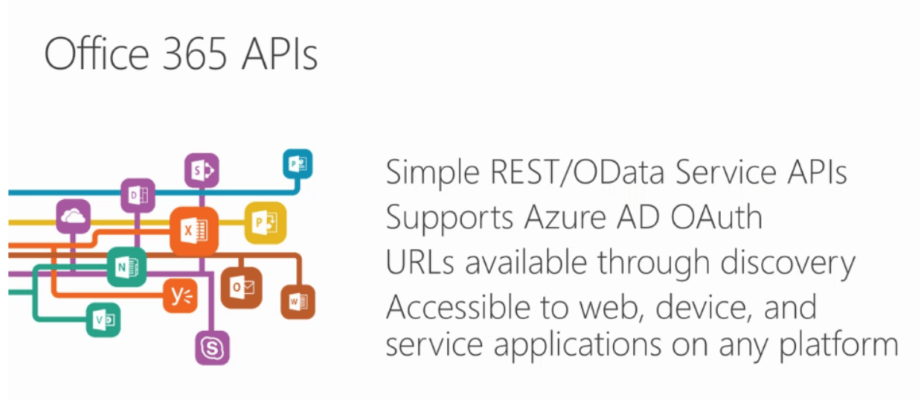 Office 365 Unified API
As of right now, Microsoft are working to unify all their different Office APIs together into one place, so you don't have to know and manage lots of different API connections. This is called the Office 365 Unified API (which is currently in preview) and is designed to take away a lot of the complexity with dealing with all those different APIs. They're actually the same APIs as the existing ones, it's just easier to connect to and work with them when they're all in one place.
"We're incredibly excited about this and this is definitely the direction we're going for future API building…" Rob Howard
The whole video is excellent, demo-heavy and Rob is an engaging speaker. However, one really useful nugget of information I picked up for Skype for Business developers was a throw-away comment when Rob was describing the different Office APIs that are available.
"The APIs for Lync and Skype will be integrated into this [Office 365 Unified API] structure very soon too." Rob Howard
This suddenly makes the whole subject of Office 365 APIs and how to access and work with them MUCH more interesting to me.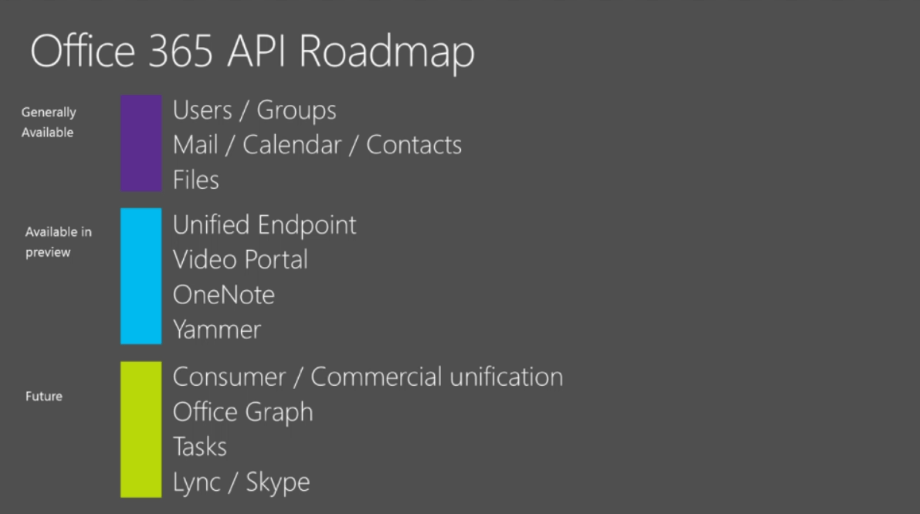 This really explains two things:
it explains in part why the recent focus has been so heavy on bringing a RESTful API to Lync/Skype for Business,
it explains why there is still no good UCMA story for Office 365 yet. It's because…
…we know that a new Services SDK is coming to Skype for Business, and
given what Rob said in the presentation, it's a pretty good bet that this new SDK will be delivered on the new Office 365 Unified API.
This could also mean that the new Skype Web SDK (which by the way also doesn't yet work with Office 365) will also be available for consumption via the Office 365 Unified API.
What this means for Skype for Business developers is that we need to start getting friendly with our fellow Office developers. Skype for Business is firmly part of the Office experience now, and we need to understand this new delivery model, as there's a good chance it'll be how we work with Office 365 in the future.
Expect more blog posts over the next few months as I get to grips with Office 365 development. I'll be learning how the process works, how access is granted and configured and how you write applications, and I'll be blogging it all so you can come along for the ride!
To the cloud!