Skype Broadcast Meeting to move to Microsoft Teams
My apologies if this is old news, but it's new for me! I'm still going through the backlog of excellent Ignite sessions and picking out the useful bits of information.
Session BRK2025 is titled "Transform your large-scale meetings with Skype Meeting Broadcast" and was given by Sonu Arora, Principal Program Manager of Skype Meeting Broadcast.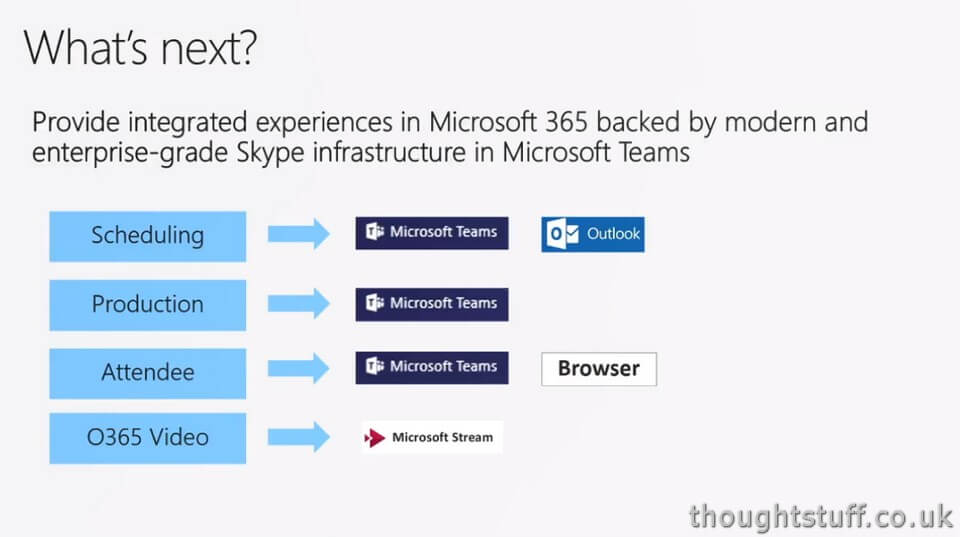 Here's what she said (it's around 45:14) that I thought was interesting:
"we are working on providing integrated experiences in Microsoft 365, it's going to be backed by modern skype enterprise-grade Skype infrastructure in Microsoft Teams. So, what that means, you're going to have scheduling experience, production experience, attendee experience in Teams."
What I take this to mean (and this is just my interpretation) is that Skype Meeting Broadcast is going to transition over to using the new Skype back-end that's being used by Microsoft Teams (and away from Skype for Business Online). This was underlined by a roadmap slide, which was shown for approximately half a second, but I managed to get a screengrab of: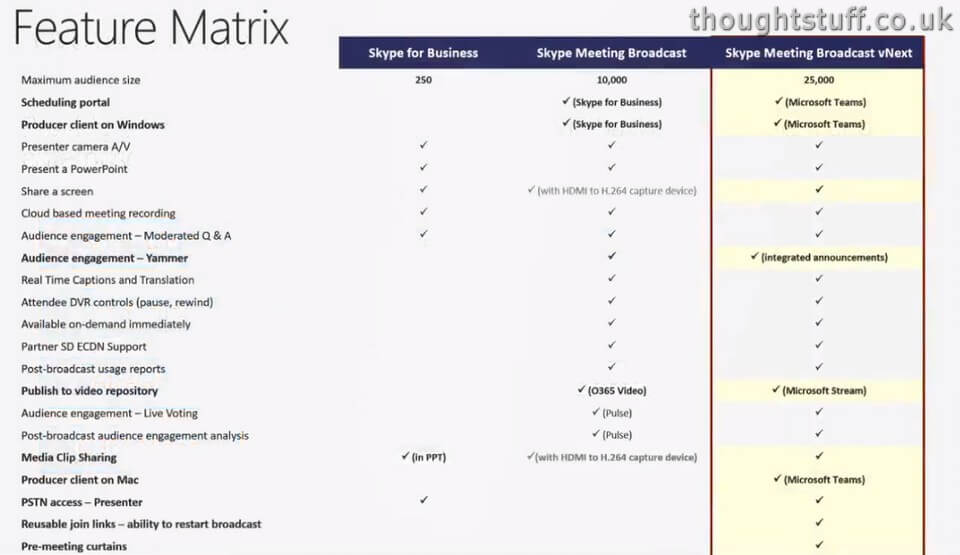 Some really cool new features look like they're coming as well: A producer client for the Mac, the ability for Presenters to dial in using PSTN, the ability to restart a broadcast without generating a new URL, and white-labelling of the pre-meeting experience. These are all features which have been asked for, so it's really cool to see the Skype Meeting Broadcast team responding to them.
It's also good to see the maximum audience size get a bump to 25,000, up from 10,000, and video going to Stream, which I hope will mean that it will pick up transcription and translation abilities. That will make it really compelling broadcast platform which is also accessible to as many people as possible.
You can watch the whole video here:
Written by Tom Morgan

Tom is a Microsoft Teams Platform developer and Microsoft MVP who has been blogging for over a decade. Find out more.
---