Coming soon to Microsoft Teams – Share your system audio
An exciting new item has made its way onto the Microsoft 365 Roadmap – the ability to share system audio in a Teams meeting: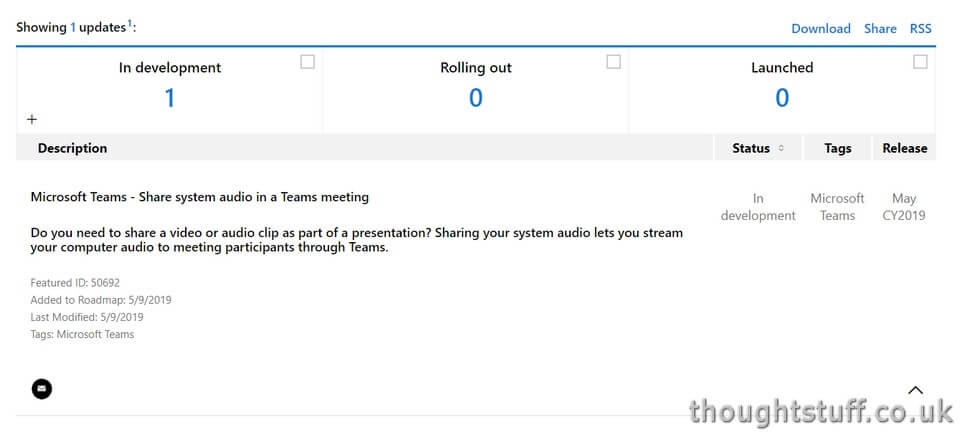 Why is this exciting?  I hear the complaint a lot from people who present in meetings that when they play video clips, the participants can't hear the audio. It's a small thing, but if you're in Sales or Marketing, it's a critical thing. I know people schedule meetings on platforms other than Microsoft Teams because they know they need to present video. I've also seen presenters link to a YouTube video and then try and coordinate all participants to start watching at the same time!
It'll be interesting to see exactly how this works. For instance, will you be able to switch your audio device from a headset to system audio, almost like an additional device? Or, will the system audio and headset audio be combined together?
In the past, I've done various things to work around this sort of issue. By far the best solution I've found is to use an HDMI-to-USB converter, which allows you to stream output from another PC as a USB input, which Teams picks up as a webcam. If that sounds useful, read my review of the Magewell USB Capture.
As a developer though, what would be even more amazing would be the ability to make the switch programmatically on the client. That way, if there was an application which emitted a sound that needed to be heard inside a Teams call the application would be able to automatically switch the audio to system audio and then back again.
The feature is showing as In Development, meaning it's not available yet. However, the estimated release date is set as May 2019, which is aggressive and so I'm hopeful we'll see this in our tenants soon.
Written by Tom Morgan

Tom is a Microsoft Teams Platform developer and Microsoft MVP who has been blogging for over a decade. Find out more.
---