Checklists and Polls are coming to Microsoft Teams soon
Exciting news from the Microsoft 365 Roadmap: new messaging extensions for Checklists and Polls are coming to Microsoft Teams: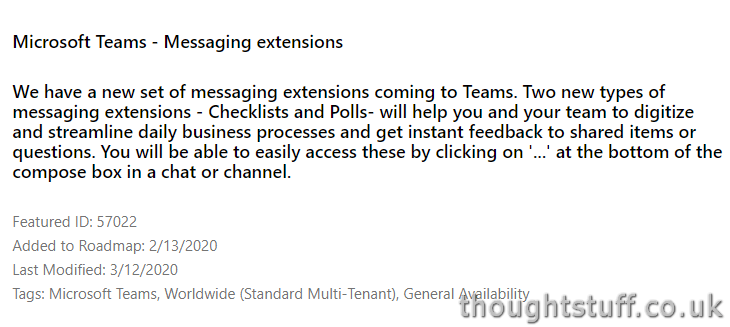 Messaging extensions are a way for developers to add additional capabilities to the Teams UI. When composing a messaging, the buttons underneath the compose box (where you can add images, GIFs, etc) can be augmented with these messaging extensions. It's actually really good to see Microsoft using the same extension points that are available to developers to extend the product, rather than relying on secret internal hooks.
The ability to poll users for feedback is already provided by a third-party application called Polly which is very popular. It will be interesting to see how the built-in Microsoft provided version fares and compares. Maybe I'll do a comparison review 🙂
Even if the Microsoft offering ends up being the default favorite, Polly have already diversified with an offering called AgilePolly which is aimed at streamlining the agile standup process for teams, using Microsoft Teams. Polly is also available on a number of other platforms as well.
For Checklists, it will be interesting to see if this is standalone to-do type application or whether there is any integration with existing to-do solutions Microsoft already has in the Office365 suite, such as Outlook Tasks or Microsoft ToDo.
Both new extensions have a forecasted release date of April 2020, so hopefully we'll get to play with them both in the near future.
Written by Tom Morgan

Tom is a Microsoft Teams Platform developer and Microsoft MVP who has been blogging for over a decade. Find out more.
---