Microsoft announces "all-in-one digital contact center"
Today at Microsoft Ignite November 2021, Microsoft announced General Availability of the Voice Channel in Dynamics 365 Customer Service.
Jeff Comstock, VP for Dynamics 365 Customer Service said:
"With the addition of the voice channel, built on the same planet-scale platform as Microsoft Teams, Dynamics 365 Customer Service expands to become the all-in-one digital contact center solution."

Jeff Comstock, Vice President, Dynamics 365 Customer Service
Dynamics 365 Customer Service enables organizations to deliver personalized customer experiences across channels, with out-of-the-box functionality spanning case and knowledge management, agent desktop, voice and routing, digital engagement, collaboration, infused AI, and NLU-powered chatbot and IVR.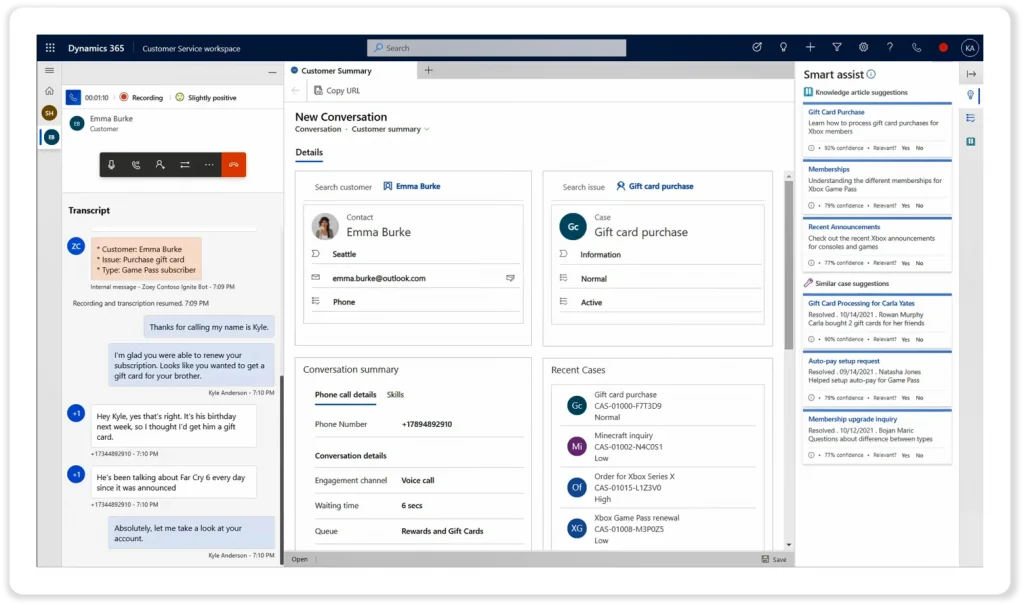 With this voice channel, Microsoft now has a contact center solution that is entirely first-party. Customers can call a PSTN number, hosted by Microsoft, have that called routed to Dynamics agents to pick up, triage and resolve, right inside Dynamics.
Speaking about the announcement in a separate Ignite blog post, Jared Spataro, CVP for Microsoft 365 said:
"A new all-in-one digital contact center solution, powered by Microsoft Dynamics 365 Customer Service and Teams, brings together traditional contact center, unified communications, and customer service capabilities into a single, integrated software as a service (SaaS) solution. With this new all-in-one solution, you'll be able to deliver chat and voice connectivity, extensibility with other business applications, and intelligence embedded at every step of the customer service experience."

Jared Spataro, Corporate Vice President for Microsoft 365
Microsoft now has a contact center product
This marks an exciting new move for Microsoft, who up until now have never really promoted having their own first-party contact center, instead relying on third-party providers via a certification scheme led by Microsoft Teams. This announcement though has come from Dynamics, with Teams only getting a secondary mention.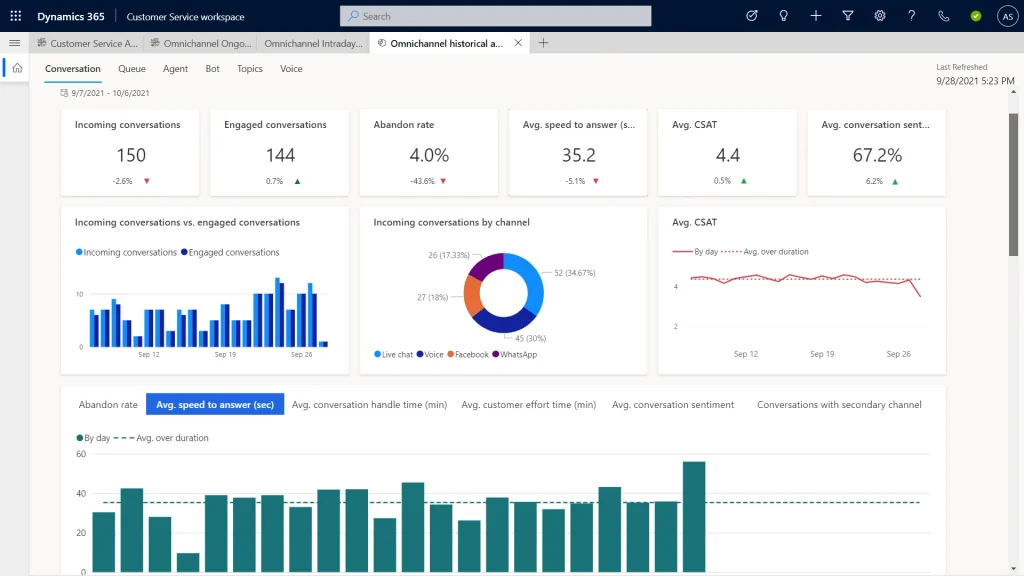 What's Included?
With the addition of the voice channel, Dynamics 365 Customer Service out-of-the-box enables:
A consistent, 360-degree view of the customer across all channels, allowing agents to quickly understand the full customer journey so customers never have to repeat themselves.
An intelligent, conversational Power Virtual Agent that can be used as an interactive voice response (IVR) for the voice channel and versatile enough to be used as a chatbot for SMS, live chat, and social messaging channels.
AI-based routing of incoming calls to the best skilled agent, consistent with all other channels.
Increased collaboration with other agents and subject matter experts globally using embedded Microsoft Teams to resolve issues faster.
Via AI and other technologies, the voice channel also offers:
Real-time transcription eliminates the need for agents to take notes. Now the agent can refer back to what the customer has said without having to ask the customer to repeat information.
Live sentiment analysis provides a pulse on customer emotions throughout the call so agents can deliver a more empathetic experience.
Proactive, AI-driven recommendations for similar cases and knowledge articles help agents resolve customer issues faster.
Real-time translation of transcripts gives agents assisting customers in different regions and across multiple languages added confidence of seeing the conversation in their native language.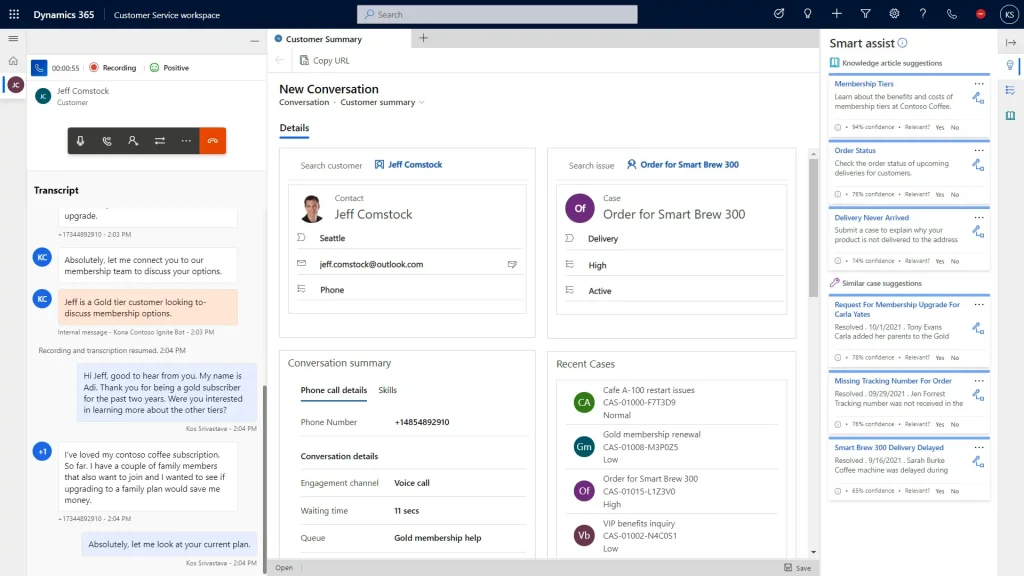 Today: voice. Tomorrow: video??
What's really interesting though, is that in Jared's blog post, this image is used to show the new digital contact center solution. Notice the video call integrated in Dynamics: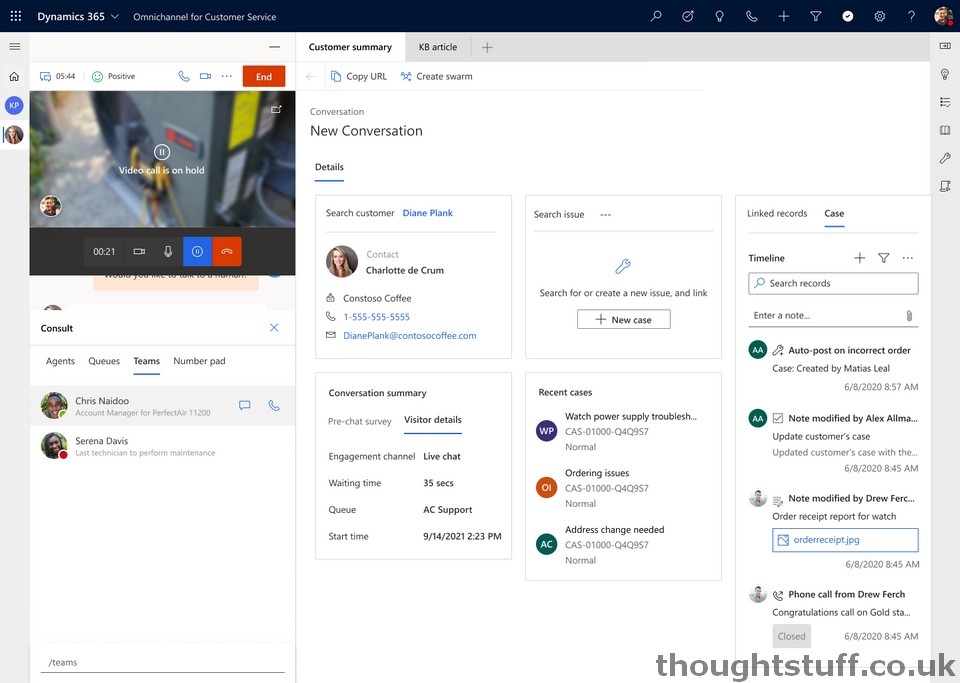 Of course, if Azure Communications is being used as the underlying provider for the voice channel, adding video to this would be relatively straightforward, which may be the reason it is shown here but not explained. There's no timeline given for the addition of video either.
How do I learn more and get started?
Read Jared's blog post: What's new in Microsoft 365
Read Jeff's blog post: Introducing voice channel for Dynamics 365 Customer Service
Read Alysa's blog post: Build a hyperconnected business
Sign up for a trial of the voice channel
Written by Tom Morgan

Tom is a Microsoft Teams Platform developer and Microsoft MVP who has been blogging for over a decade. Find out more.
---