Viva Sales is coming, are you ready?
All the way back in June, we first heard about Viva Sales (I talked about it on my weekly update that week – you should probably subscribe to the video or the audio!)

That announcement gave us the first clue about what Viva Sales was going to be, and at the time I spoke about it being exciting because it showed how a collection of existing technologies could be harnessed together to create a solution.
Then, over the summer there was a Public Preview, but I think this was mostly missed, as it happened in August when everyone was on holiday.
Announce, Public Preview, then GA
Now though, we have more information about a likely Generally Available date, thanks to a new entry on the Microsoft 365 Roadmap:

This roadmap entry – added last Tuesday – talks about a new app – Viva Sales – which is due to become Generally Available in October. If I remind you that Microsoft Ignite is happening on October 12-14, then you might reasonably expect this to be talked about there (although we don't have the session lists out yet). Either way, it's coming soon…
What does Viva Sales cost?
That's a question we don't currently have the answer to. RIght now, it's free to use the public preview of Viva Sales (if you don't include the cost of accessing your existing CRM systems).
However, Microsoft have said that they are "working on defining the pricing" for Viva Sales and will "disclose it during general availability". (ref)
Where is Viva Sales data hosted?
Technically, Viva Sales is build on the Microsoft Power Platform and stores its data in Dataverse as well as using the host CRM system. (ref)
The data is always stored in Dataverse, but the exact location differs depending on the CRM system you are using:
When Viva Sales is connected to Dynamics 365, Viva Sales data is stored with the Dynamics 365 Sales Dataverse instance.
When Viva Sales is connected to a non-Dynamics 365 CRM (such as Salesforce® CRM), a default Dataverse instance specific to Viva Sales is provided to your tenant. Viva Sales data is stored in the default instance in addition to your CRM. (ref)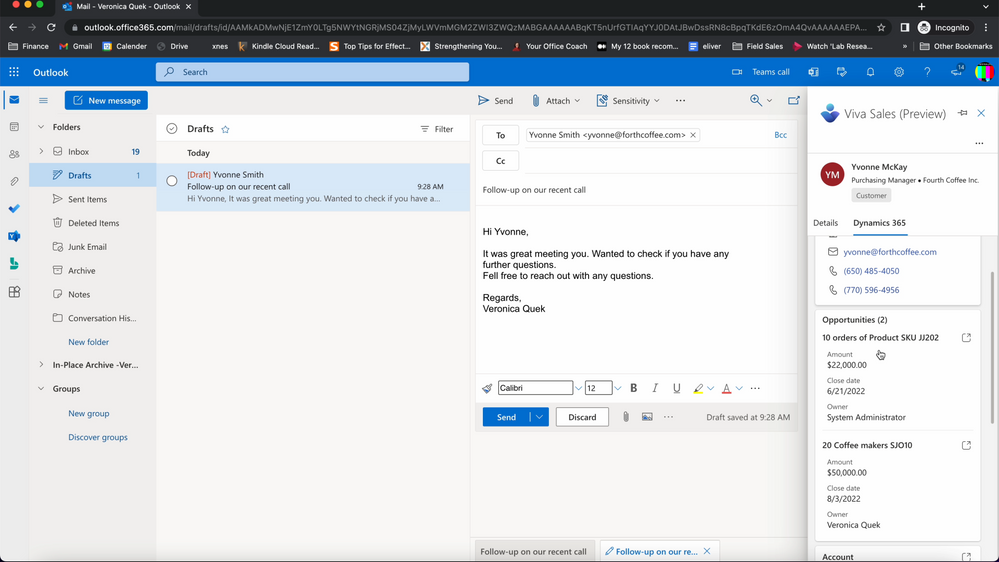 So, how can I get ready?
Firstly, is this the solution for you? If you want to use Viva Sales today, you must already be using Microsoft Dynamics 365 Sales or Salesforce® CRM. If that's not you, then you'll get limited benefit from Viva Sales. Of course, the GA announcement might include details of other CRM systems that are supported.
Viva Sales takes some of the most common activities that sellers perform and presents them in a simplified experience that's accessible through both Microsoft Teams and Outlook, including things like:
accessing CRM data about contacts, accounts and opportunities
collaborating with colleagues about customers and deals (staying inside Teams and Outlook)
access to relevant information when communicating with customers (as long as they're on Teams)
The Public Preview apps are available to download right now from the Microsoft Teams App Store:
If you're a Microsoft 365 Admin, here's how you can deploy these apps to your users:
If you're looking to give users a high-level overview of what Viva Sales is and why they might like it, this 2-minute getting started video will help:
You can also check out the Administrators Guide and FAQs for more details about Viva Sales.
What about developers?
It's unclear right now whether Viva Sales will GA with any specific APIs for developers to customize the experience or provide any access to data. If you think that most of the data that Viva Sales will be surfacing is coming from a CRM system that already has APIs, this makes some sense.
One area where I think we may see some extensibility points for developers is around support for additional CRMs. By providing a mechanism for developers to create custom integrations to third-party CRMs, Microsoft can immediately have an answer for everyone who wants the ease and flexibility of Viva Sales, but on their own CRM system which isn't one of the officially supported ones.
Don't forget as well that all the Viva Sales data is stored in Dataverse, which has its own web API which developers can use to access data. This might provide the perfect route to accessing data, even creating indie connectors for other CRM systems. As soon as Viva Sales goes GA, we'll know for sure!
Written by Tom Morgan

Tom is a Microsoft Teams Platform developer and Microsoft MVP who has been blogging for over a decade. Find out more.
---