Google Chrome will support H.264 WebRTC, good news for Skype Web SDK
A little while ago, I blogged that Microsoft confirmed it will support for WebRTC/ORTC in the Skype Web SDK. At the time I cautioned that whilst this is good news it might not be the end of the story because support for H.264 in Chrome was unknown. Not having this support in such a popular browser would have been a real problem for take-up of a plugin-less Skype Web SDK model.
Well, I have good news! In a developer session that you can watch on YouTube, Google confirm that they are bringing H.264 support to Chrome! 🙂
If you want to jump to the announcement, it's at 32:34 but actually the whole video is worth watching, even if some of the more technical parts of WebRTC will pass you by (they did me!).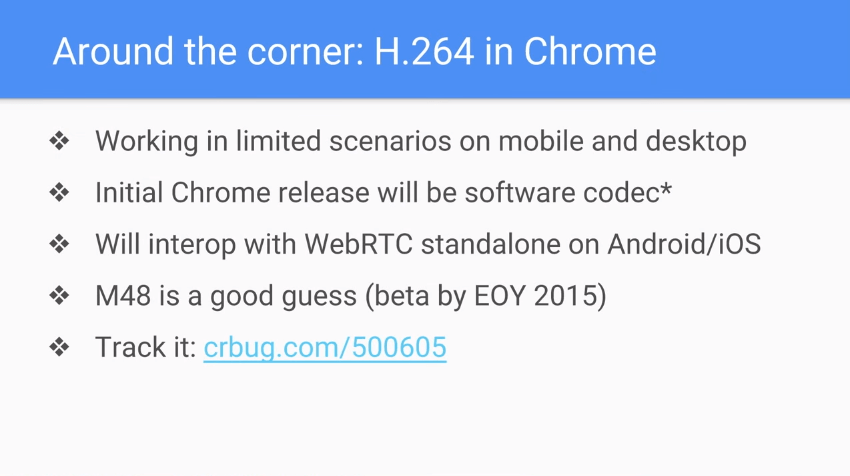 Some key takeaways:
they have this working in development today (in fact 2 months ago!)
this will initially be a software codec, however they hope to eventually move to using hardware – firstly in Chrome OS, then other platforms including Android and iOS platforms.
The issue number for this feature is 500605 – so you can track progress at crbug.com/500605.
Google are hoping that this support will go to Beta by the end of the year, most likely in release 48 with a mid-December time-frame. You can keep a track of when that happens here.
Of course, it doesn't follow that the Skype Web SDK will immediately start supporting plugin-less video as soon as this is released – but this does represent the removal of a key blocker, which is good news.
You can watch the whole video here:
Written by Tom Morgan

Tom is a Microsoft Teams Platform developer and Microsoft MVP who has been blogging for over a decade. Find out more.
---