Microsoft Teams Admins & Application Makers – your organization needs you today: 4 webinars you should attend
This is a call to arms for anyone who looks after Microsoft Teams users, or is a Microsoft Teams Application Maker. It includes IT Admins, Developers, and no-code/low-code makers, including citizen developers.
Right now, the workforce is stressed out. Things are not normal, and the novelty has worn off. People are stuck at home, and they can't work they way they are used to. Without the ability to quickly share information with a co-worker on the next desk, or validate some thinking at the water cooler, Imposter Syndrome is a real threat, and the risk is that users are retreating into themselves.
You can change that. You can help your fellow workers out.
Apps Help Users
In a recent survey of users of apps for Microsoft Teams, 95% of respondents indicated that apps for Teams increase team performance.
Microsoft Teams Apps provide a common interface for users and enables them to access the information they need or control the processes they are involved with, right from with the Teams interface.
"For nonmillennial employees, particularly boomers, there's some challenges in discontinuity when dealing with different user interfaces related to finding information. By using applications through Microsoft Teams, it improves application continuity and offers a familiar Windows environment, while giving workers the ability to pick and choose apps to add because of their tight integration."
CIO, cosmetics company
What can you do?
For IT Pros – you should be looking at the stable of Teams apps that are out there (700+!)  and seeing how they can improve the productivity and happiness of your users, for instance:
Enriching meetings experiences with apps that create customized experiences that enable​ teams to work together productively before, during, and after the meeting.
​Simplifying day-to-day work with apps that provide essential information quickly, and​ apps that automate workflows.​
Promoting employee well-being with apps to understand and help improve employee morale.​
Connecting people with apps to promote communication, drive culture, and inspire change.
If you're looking to find apps that are right for you or your organisation, check out:
There is also a top-level landing page – aka.ms/teamsapps –  for all Teams apps, nicely categorized into different sections: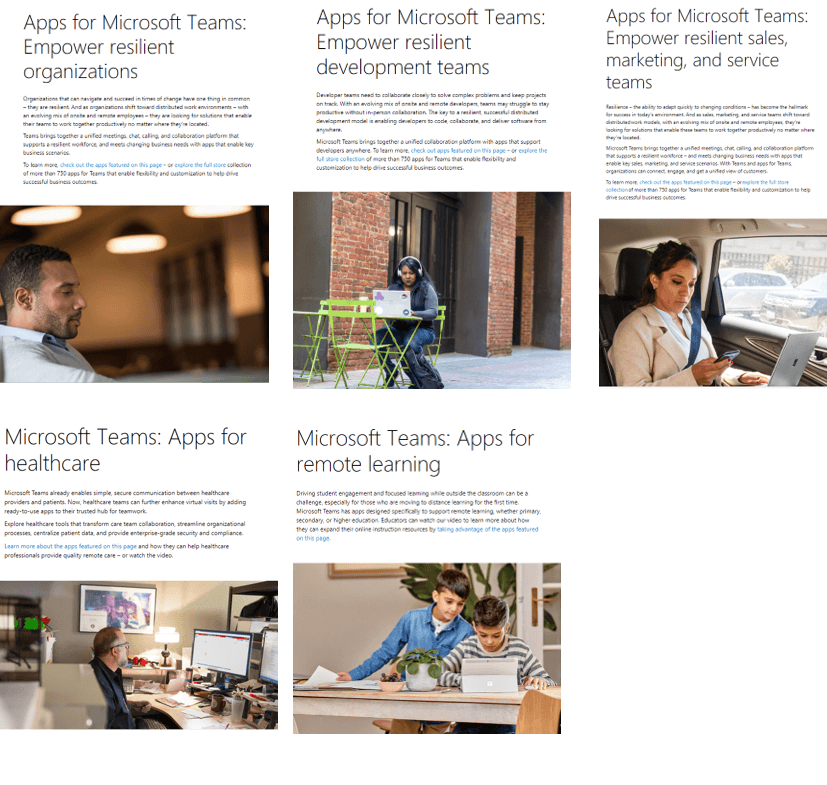 For Developers – if you can't find the apps you need, why not build? There are no-code, low-code and pro-code tools to help you build apps to help users. There are so many resources out there to help you, including some from me. If you can imagine it, you can build it, and with no-code tools like PowerApps, scaffolding for apps via the VS Toolkit, and the many sample applications on Github there's nothing stopping you.
Finally – if you're a developer and you're feeling the stress of remote working, there are also apps for you.
integrate with work item tracking software
project management apps
monitoring tools to keep an eye on deployed projects
development pipeline apps – know when the build is broken and talk about whose fault it was, right within Teams.
4 webinars to help you
This is a great time to tell you about 4 new webinars from Microsoft which are coming up this week. These webinars support all the things I've just said and so if I've anything I've written resonates, make time in your schedule for whichever of these free sessions make sense.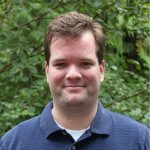 The webinars are being run by Mike Ammerlaan with guest speakers from different organisations showcasing the apps they have. Mike is a Director of Product Marketing on the Microsoft 365 Ecosystem team, covering products such as Microsoft Teams, Microsoft Graph, Office applications, and more.
He has worked at Microsoft for over 20 years, developing products such as SharePoint, Excel, Yammer, Bing Maps and Combat Flight Simulator, with a focus on developer platforms and capabilities.
Nov 17th (8 AM, PST) – This first webinar is for developers. Explore the newest Microsoft Teams apps that can extend meetings experiences with additional tools and information. Learn how to turn a call into an informed, connected meeting, add key polling and task tools to major team status updates, and see the latest Teams Meetings interoperable innovations from ServiceNow, HireVue, Range, and Asana that can help users stay productive. Register: https://aka.ms/M365v309PAL-Register
Nov 18th (8 AM, PST) – This webinar is also for developers, but is about the process of development, not the applications you'll build. In this session, learn how in Microsoft Teams, devlopers can add and extend their core communication tools with custom apps that help them track all facets of their DevOps processes. Find out how integrations from GitHub, Jira, PagerDuty, and Trello interoperate with Microsoft Teams, creating the ultimate hub for development team productivity. Register: https://aka.ms/M365v310PAL-Register
Nov 18th (10 AM, PST) – This webinar is for IT Pros. Halp is The First Conversational Ticketing Platform for Modern Teams and lets users create requests through messages. Join us to learn how Halp's integration with Microsoft Teams enables help desk features to support any team getting requests through messages – IT, DevOps, Security, Finance, and all operations enabled with Halp. Register: https://aka.ms/M365v311PAL-Register
Dec 1st  (8 AM, PST) – Finally, a webinar specifically for healthcare. Join this webinar to learn you can help your healthcare customers enable comprehensive end-to-end grant management with Avanade Grant Management Solution, empower experiences through HIPAA-compliant, real-time healthcare surveillance and workflow configuration with ThinkAndor, and streamline decision making and keep track of decisions with Cloverpop. Register: https://aka.ms/M365v312PAL-Register
---
These webinars are all free, are run by Microsoft and will provide you with the ideas and resources you need to support your workforce.
Right now, your org needs you. Help them out by attending these webinars and skilling up so you can help them out. 🦸‍♂️🦸‍♀️🦸‍♂️🦸‍♀️
Written by Tom Morgan

Tom is a Microsoft Teams Platform developer and Microsoft MVP who has been blogging for over a decade. Find out more.
---