Microsoft Teams overtakes Slack & Hangouts to become most used business collaboration platform
A recent survey by well-known network analytics company Spice Works has found that in the past 2 years Microsoft Teams has leap-frogged the competition to become the most used business platform.
As reported by MSPowerUser (emphasis mine) "In their November 2018 survey of 901 respondents from organizations across North America and EMEA, they found 21% of companies were using Teams, up 18% from 2016, while Slack was used by a paltry 15% of companies, with only 2% growth from 2016."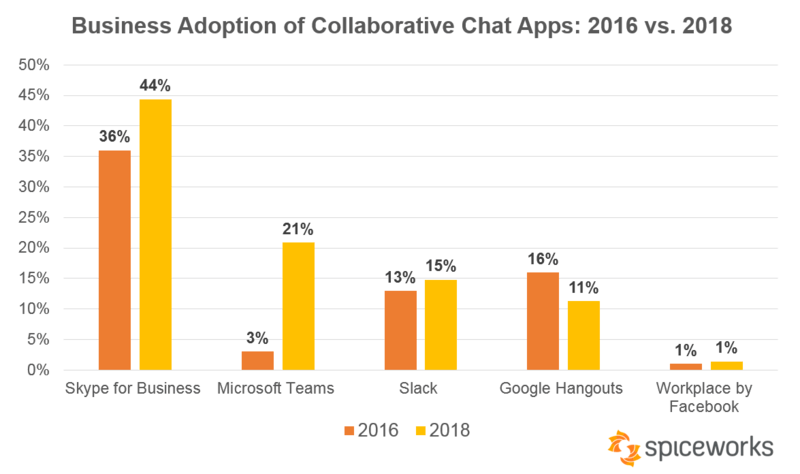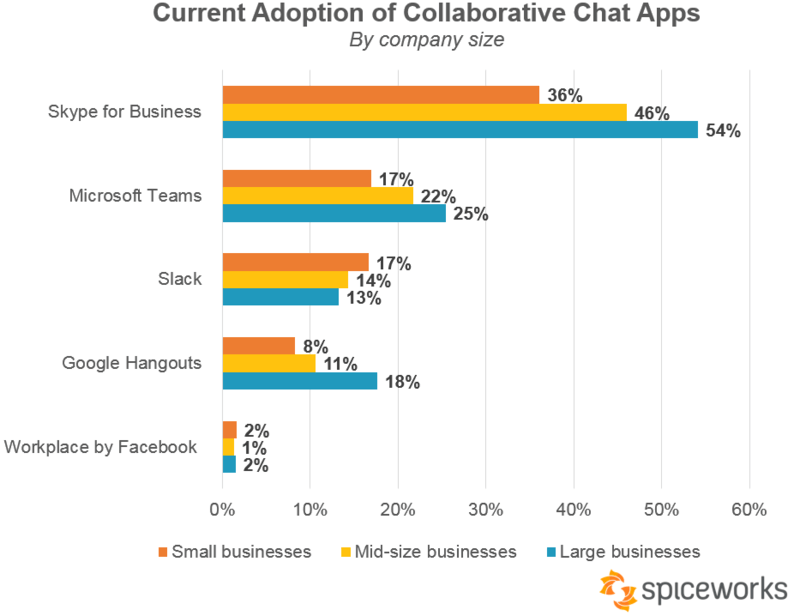 What's interesting (to me) about these stats is that Teams is displacing Slack and Hangouts across all business sizes, not just large businesses. Skype for Business still has a dominant share which is likely to drop over time – the challenge for Microsoft is to ensure that those users move over to Teams rather than looking around. Any gains made now though will help solidify the Teams position and make that migration more likely.
"The sudden rise of Microsoft Teams is likely influenced by the fact that it's available at no additional cost to Office 365 users. Although Skype for Business has maintained the lead overall, Microsoft is putting more of an emphasis on Microsoft Teams as the default communications app for Office 365, which is enticing organizations to give it a try. As a result, we'll likely see Teams adoption rates double in the next couple years."

Peter Tsai, senior technology analyst at Spiceworks.
Microsoft have expended a lot of effort in Teams user adoption and training to make sure the users understand how to use Teams and all the functionality that's available. It looks like that hard work is paying off.
Some other interesting insights from the report stand out:  email is still ubiquitous (99% usage!) and doesn't look like it's going away any time soon. And, there's a really interesting graph asking people what the relative advantages and disadvantages of each platform are.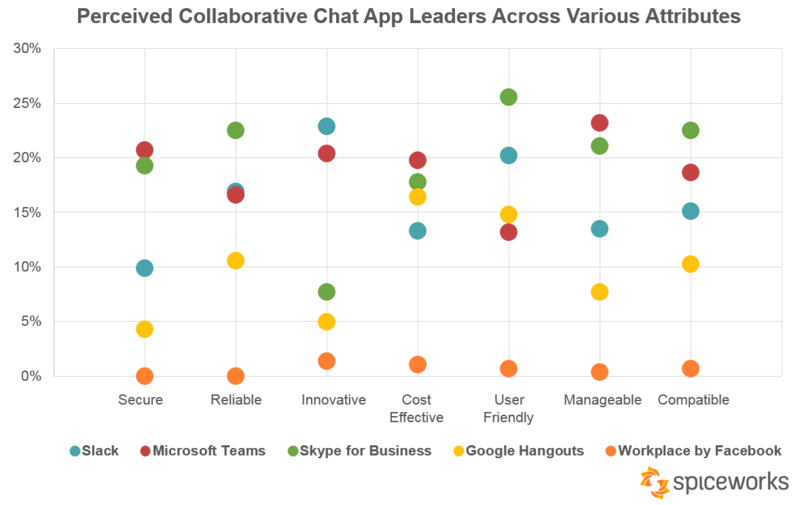 I found this information fascinating. Teams does very well for Security & Management, which you'd expect from a serious enterprise player like Microsoft; and Cost Effectiveness (again, makes sense as it's available to most people for no extra cost). There's room for improvement around Reliability and Innovation. I found that surprising – I think there's maybe more that can be done to amplify and point out some of the Teams features that aren't as well known.
Future Deployment Plans
The survey also asked people what their future plans where. Teams also does very well here as well, compared to the other platforms, with 20% of respondents planning to use Teams within 2 years (compared to 3% for Slack)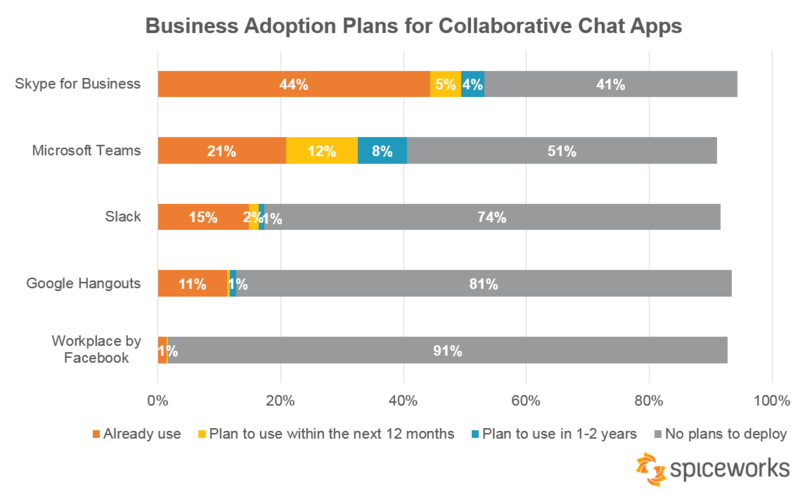 All in all, I thought the survey was really interesting – big thanks to Spice Works for conducting it. I'd be really interested to see another such survey aimed purely at developers: partly around developers using collaboration tools for their intended purpose (i.e. collaboration to get work done), but also developers using collaboration apps as a platform for deploying applications on. Those are two separate things and both would be interesting to learn more about.
Written by Tom Morgan

Tom is a Microsoft Teams Platform developer and Microsoft MVP who has been blogging for over a decade. Find out more.
---